Wyoming Geographic Alliance
University of Wyoming | Department of Geography
Winter 2012 Newsletter
Fall 2011 Steering Committee Meeting
On September 3, 2011 the Wyoming Geographic Alliance Steering Committee met at the Holiday Inn in Cheyenne, WY for its annual fall meeting to review, suggest changes to, and adopt the Wyoming Geography Alliance Strategic Plan.  Will Murray from Boulder was hired to guide the four Strategic Plan Team members to write the plan.  Dr. Ron Beiswenger, a Strategic Plan Team member, led the discussion.  The plan was adopted unanimously with several suggested changes and will be forwarded to National Geographic Education Foundation to be accepted.
Judy Kallal explained that the Giant Traveling Map of North America arrives in Jackson September 12.   It will tour 12 districts in Wyoming.  October 1, an email will be sent out to Wyoming schools announcing the Giant Traveling Map of South America will be in Wyoming from January through May.  So far, the WGA is sponsoring the map, but other sponsors are being solicited.
Two of the Steering Committee members attended the WGA/SER Summer Energy Institute for teachers.  David Burrill and MaryJo Birt reported on the summer institute.  It was noted that teachers appreciated that the institute was content focused.  Each school district that came received a 12 foot by 12 foot vinyl floor map of Wyoming—a thousand dollar value.  Each attendee created a lesson plan for the map.  These lesson plans will be available on the WGA website.
Judy announced that she, Dr. Jerry Webster and Don Morris will meet with State Superintendent Cindy Hill and Sheryl Lain Wednesday, September 7th.  As a side note, Judy, Jerry and Don were pleased with the meeting and the willingness of the State Department of Education to work the WGA.
The nest WGA Steering Committee meeting will be on May 12, 2012 after the National Geographic Alliance Coordinators meeting in Washington D.C. in April.
Speak Up For Geography!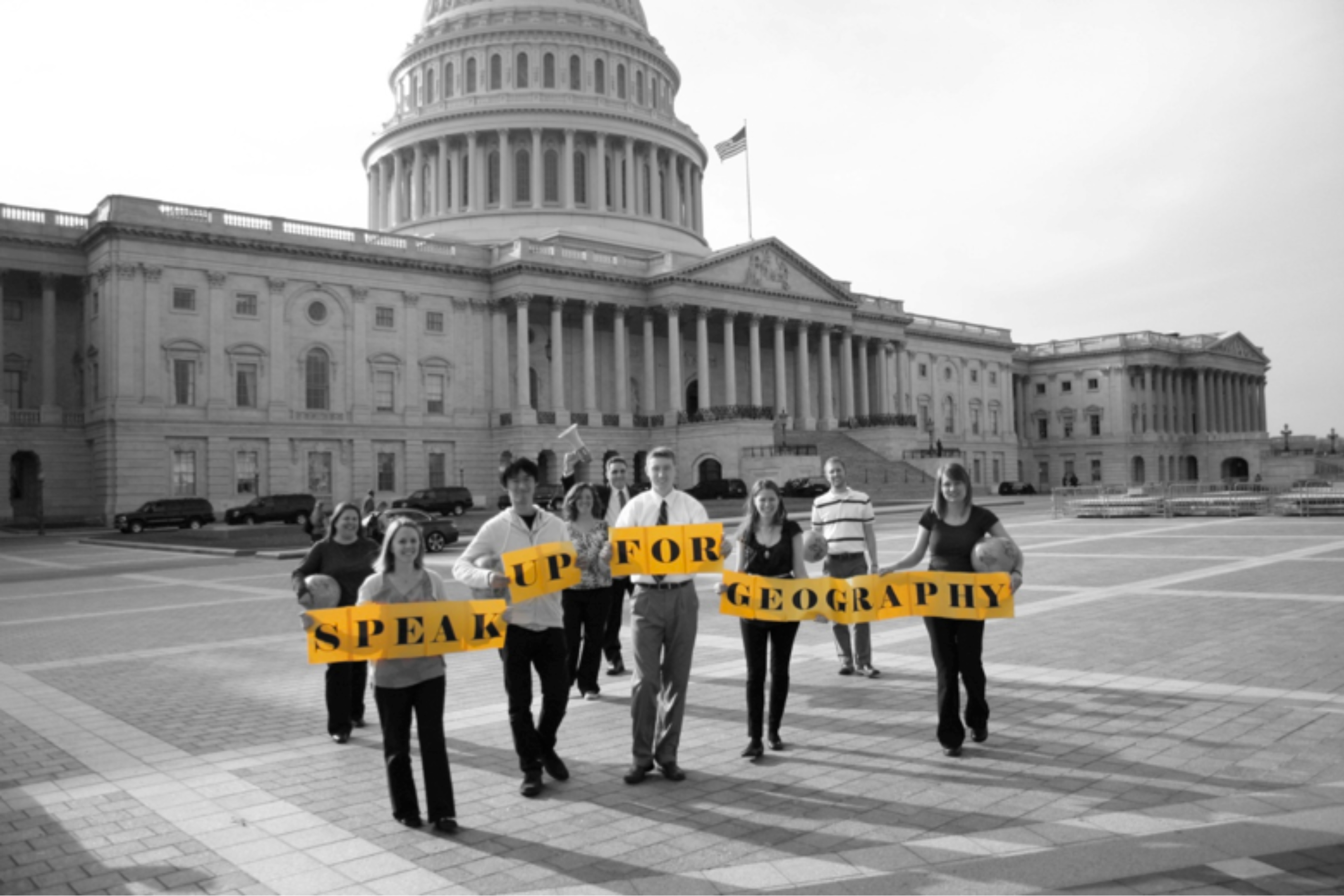 Got a minute? Speak up for Geography by sending the congressman in your area a letter to help the fight for better funding in geography education.  By following the link below, you let our Wyoming congressman know that you believe and support the Teaching Geography is Fundamental Act (TGIF).  From the Speak Up for Geography action page:
"Geography has long been recognized as a "core academic subject" in federal education legislation.  However, unlike all the other core academic subjects, including history, civics, economics, foreign languages and the arts, there is no dedicated federal funding stream to advance geography education.  As a result, our nation is facing a crisis in geographic literacy that is jeopardizing our global competitiveness, our position of diplomatic leadership, and our ability to fill and retain over 150,000 jobs in geospatial technology in the next decade. 
The Teaching Geography Is Fundamental Act (TGIF) is federal legislation which would authorize grants to universities and nonprofit organizations for programs to expand geographic literacy among American students and improve the teaching of geography at the K-12 level.  
TGIF authorizes $15 million per year for five years."
 Follow this link www.speakupforgeography.org,  fill in your zip code, name, e-mail and hit send! It's a quick way to make a difference for geography education!
WGA welcomes Caroline McClure back from D.C.!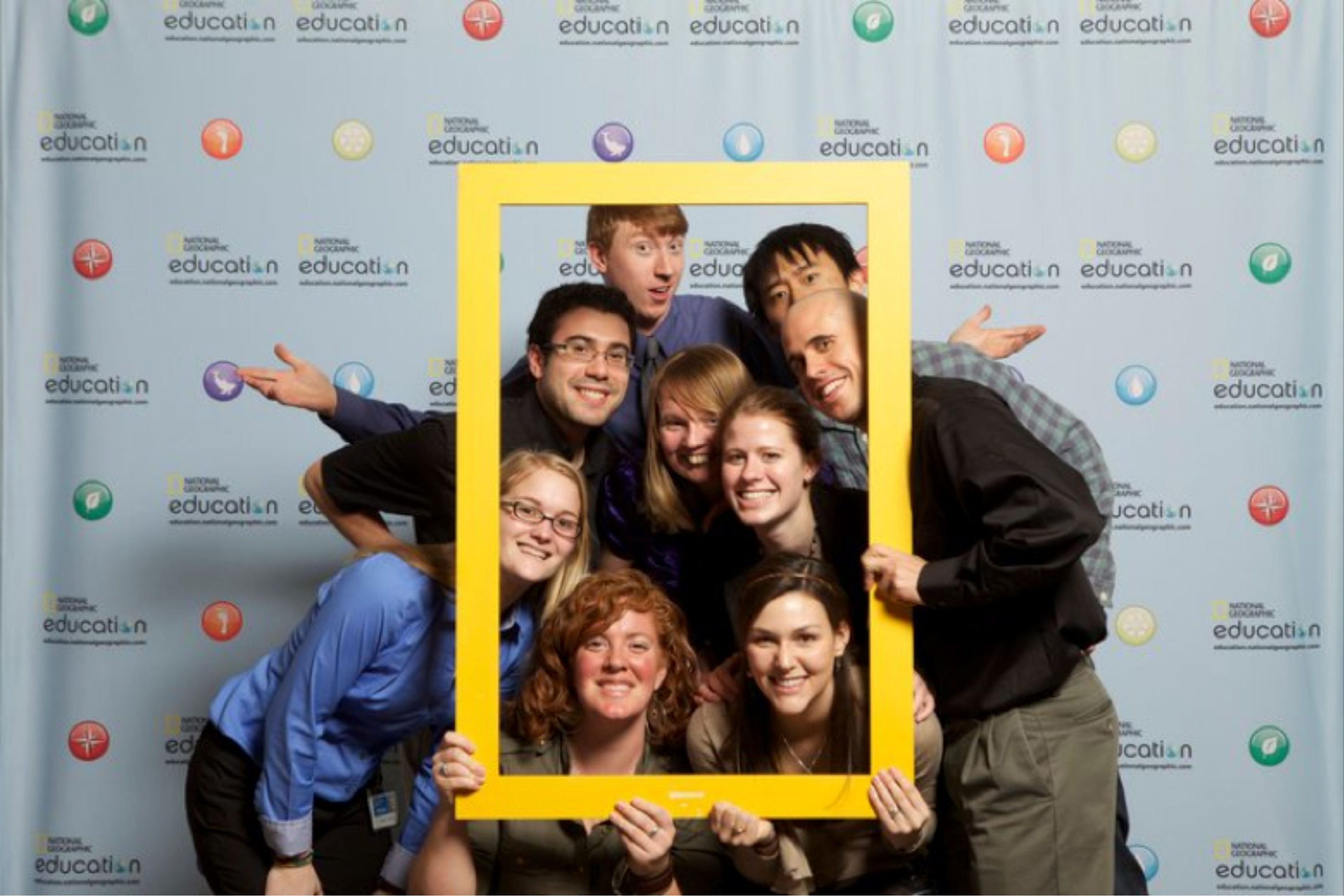 In Spring 2011, Caroline McClure was granted one of the coveted internships with National Geographic.  She was given the opportunity to be one of nine geography interns at National Geographic this past spring to work in the National Geographic Education Foundation and the Education Programs offices.  Caroline worked on the Hill Day reports, a one page document that explains the impact of the state Alliance on education as well as on their achievements, events, and outreach efforts.  These documents are sent within a "Teaching Geography is Fundamental Act" packet that is sent with all the Alliance Coordinators during their annual meeting to Capitol Hill to meet with state representatives. She also directly assisted with the Alliance Coordinators Meeting and helped build the "Speak Up For Geography" campaign site (http://speakupforgeography.org), which is an outreach for the Teaching Geography is Fundamental Act. 
Caroline was given the opportunity to learn the grant writing and awarding process as well as how the Alliances from all over the country function individually and within the National Geographic Alliance Network.  Caroline is excited about the things she learned at National Geographic and while living in D.C. and is ready to share those ideas with the members of the Wyoming Geographic Alliance!
2011 WGA Geography Awareness Week Contest a Huge Success!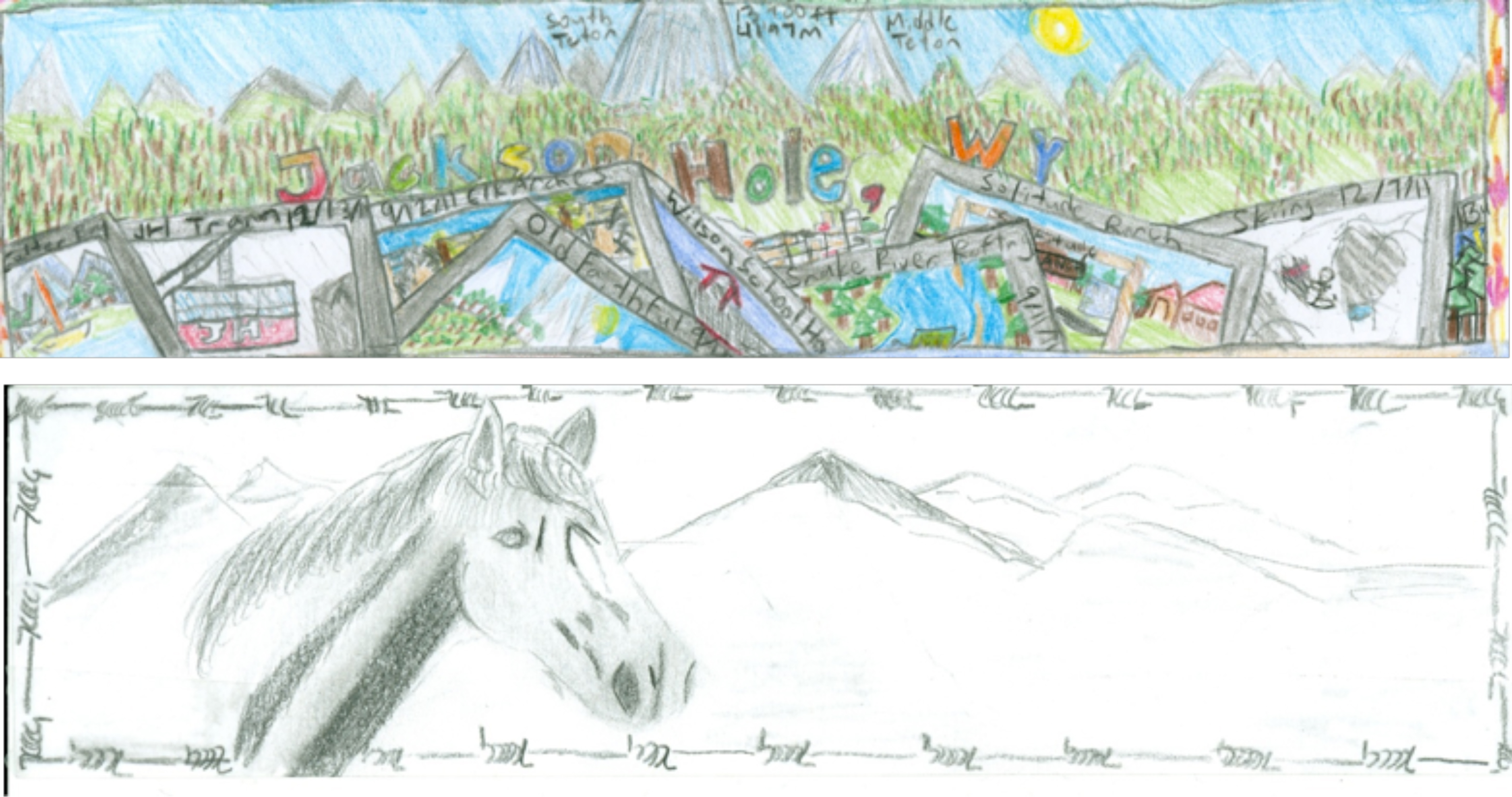 Top: 6-8 1st place winner John Kim, Jackson Hole Middle School; Teacher: Nancy Brumsted
Bottom: 9-12 1st Place winner Amanda Bebo, Chugwater School; Teacher: Margret Jensen
In 2011 the Wyoming Geographic Alliance (WGA) hosted student bookmark contest where students were given the opportunity to create book marks around the theme of "The Adventure in Your Community".
The WGA received 456 entries across all grades.
The artwork was spectacular and the judges had a fantastic and difficult time choosing the winners.
The winners were, by age group:
K-2:     1st Aiden Coberly, Upton Elementary
            2nd Brogan Allen, Hobbs Elementary
3-5:      1st Willow Stedman, Upton Elementary
            2nd Grace Sopko, Tongue River Elementary
6-8:      1st John Kim, Jackson Hole Middle School
            2nd Emery Rheam, Jackson Hold Middle
9-12:    1st Amanda Bebo, Chugwater School
            2nd Kylee Jamison, Desoto Central High School, Desoto, MS
Each student winner will receive a WGA flashdrive and blow-up globe, as well as a subscription for their class from National Geographic Kids magazine.  Each first place bookmark will be printed to distribute to libraries and schools.  If you know any of these students be sure to offer them congratulations and look for their bookmarks!
Colorado Council for the Social Studies Conference and the Wyoming Geographic Alliance!

This year, the WGA and the Colorado Geographic Alliance (CGA) are working together at the Colorado Council for the Social Studies Conference in Denver on April 13, 2012.  The WGA will be hosting the Giant Traveling Map of South America and in exchange, CGA will be covering the cost of six Wyoming participants.  There is currently one spot open for a teacher from Wyoming to attend, and if you are interested, please email Judy Kallal at wga@bresnan.net. 
This year's conference theme is "From Civil War to Civil Rights to Civil Discourse and Civic Life" and will be hosted at the Doubletree by Hilton Denver Tech Center.  For more information on the conference and location: http://cosocialstudies.org/conferences.php. 
TC training with the UW College of Education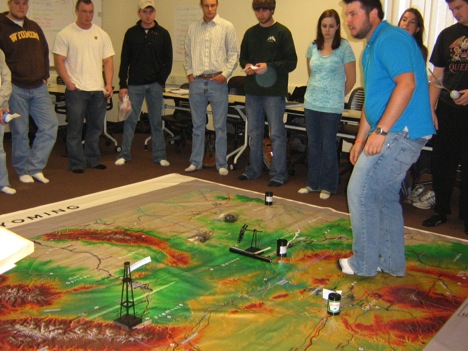 In November 2011, the WGA partnered with the University of Wyoming College of Education to train preservice teachers to be WGA  Teacher Consultants.  MaryJo Birtt from Wheatland demonstrated the BINKO presentation method and the session was facilitated by Mary Claire May.   Students were then assigned to create a lesson plan using the National Geographic lesson plan format incorporating the large floor map of Wyoming.  The final step was for each preservice teacher to present their lesson plan using the BINKO method.
In December, MaryJo Birt, Mary Claire May, , Carol Bryant, Brian Eberhardt, Judy Kallal,  Caroline McClure and Nadia Kaliszewski  facilitated all the sessions.  The preservice teachers were then given WGA Teacher Consultant Certificates.  The lesson plans will be available on the WGA website. The preservice teachers will be student teaching this semester.   We wish them luck and hope that they will incorporate Geography into whatever subject they teach!