The Equality State Research Network has awarded two grants to support community-based participatory research focusing on improving the health and well-being of Wyoming residents. The recipients are:
The Edible Prairie Project is a nonprofit, community-based organization created to support small and mid-scale agricultural and food processing operations within the local community. The Edible Prairie Project supports independent, family-scale agriculture through education, food production, and distribution, improving the affordability of and access to high quality and nutritionally appropriate food for all members of the community. Their project aims to increase food security and fruit and vegetable consumption through the Edible Prairie Veggie Basket program, connecting local farmers and ranchers to SNAP and WIC users. Photo courtesy Elizabeth Dillow Photography.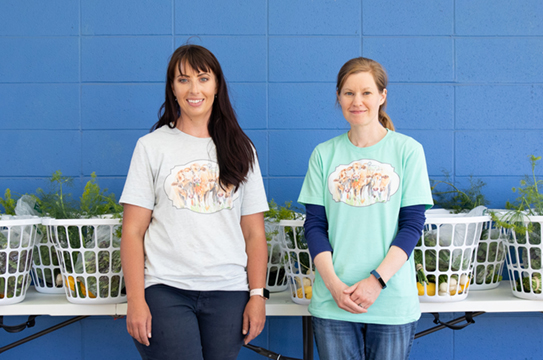 Dr. Michelle Blakely is an assistant professor of social and administrative pharmacy in the College of Health Sciences and the principal investigator for a research project to identify barriers and increase the use of assistive technology in healthcare interactions between deaf/hard of hearing patients and Wyoming pharmacists. The research project aims to improve healthcare communication by identifying barriers and facilitating access to assistive technology communication, with a goal of improving medication adherence, health-related outcomes, and patient quality of life.
Read more about Dr. Blakely's research in the Journal of the American Pharmacists Association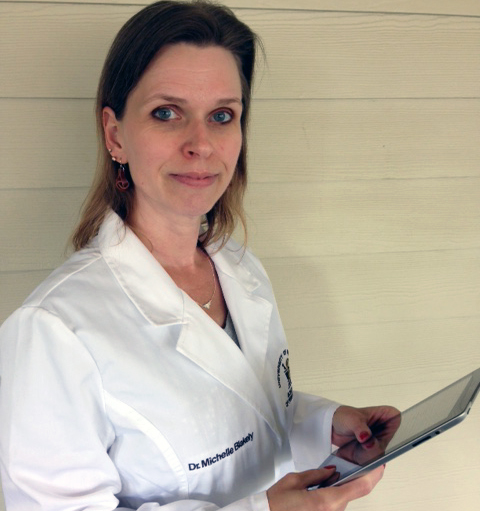 ---
Tele-rehabilitation Through Real-time User Interaction and Motion Tracking in 3D Immersive Virtual Reality
Tele-rehabilitation delivers rehabilitative healthcare remotely to overcome spatial, temporal and economic barriers, helping eliminate health disparities. The emerging effectiveness of telerehabilitation has been seen for patients with orthopedic injuries and survivors from traumatic, degenerative and cardiovascular diseases of the central nerve system (CNS). The current technology for telerehabilitation is limited to audio- or video- based interaction without an objective and accurate measure of motor functions. Such a technological limitation prevents the delivery of precision medicine and largely constrains the efficacy and potential of telerehabilitation.

Dr. Qin Zhu Associate Professor, Department of Kinesiology and Health, University of Wyoming is conducting a study building an interactive tele-rehab system that is patient-centered with augmented feedback and tele-presence of therapist to assist rehabilitative exercises in both real and virtual environment. This new paradigm of tele-rehabilitation is expected to increase the patient adherence to therapy and minimize the existing health disparity. 
This survey was created in conjunction with the Wyoming Medical Society (WMS) and seeks to understand the impact of the COVID-19 pandemic on Wyoming healthcare providers. Data collection is ongoing and the survey is being distributed on behalf of the WMS. Outcomes measured include business interruptions as a results of COVID-19, practice interruptions, changes in cancellations, changes in reimbursement procedures, supply issues, payroll/cashflow issues, perceptions of state response, telehealth use, among others. Initial results suggest a significant impact for Wyoming providers with a large potential for the impact of telehealth procedures. 
Telehealth Provider Satisfaction Survey
This study sought to gather information from Wyoming telehealth providers about their use of telehealth and their perception of a recent telehealth encounter. Fifty providers responded to the survey and answered questions about satisfaction, success, ability to address patient needs, results of the encounter, cost savings, and technical issues. Overall, providers reported high levels of satisfaction and success in their encounters, a high percentage of meeting the patients needs (80%), and several examples of services saved for patients (e.g. ambulance transfers, ER visits, hospitalizations). 
---
Currently, we are reaching out to primary care clinicians, staff, early childhood centers, and other community members who would like to be part of this process of inquiry. Please let us know if you are interested in receiving more information about the Equality State Research Network.
Contact us for more information, or if you would like to become a partner with the network.
Project Proposal Submissions for the network
Future Research Topics
While a study on developmental screening is the topic for our first study, we recognize there are more questions to investigate and challenges to overcome with regard to healthy communities. Please let us know what challenges you have seen in your practice and/or community and offer ideas on what you think are interesting research questions to pursue. Development and sustainability of the Equality State Research Network is dependent on active participation and investment of ideas from all corners of Wyoming – geographically as well as across all aspects of health.