Wyoming AEM Clearinghouse/Wyoming Institute for Disabilities
Dept 4298, 1000 E University Avenue
Laramie, WY 82071
Phone: (307) 766-5770
Toll Free: 1-888-989-9463
Fax: (307) 766-276
Email:
NIMAS@uwyo.edu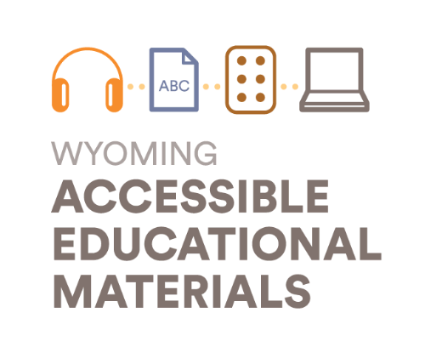 Questions about the Wyoming AEM Clearinghouse

What are accessible education materials (AEM)?
A student with a disability may have difficulty accessing standard education materials, such as textbooks and workbooks, in the classroom.  Accessible education materials are designed to provide students with print disabilities an equal opportunity to learn.  The Wyoming AEM Clearinghouse works with school districts in Wyoming to provide accessible education materials to students with print disabilities.
Does your child need AEM?
A student with a print disability may have a visual impairment, physical impairment, or a reading disability, such as dyslexia, that impairs a student's ability to read and learn from standard education materials.  These students have the ability to learn the content, but they need an alternative and accessible educational format.  Accessible education materials include audio, large print, digital, and braille formats.
Eligibility for services is coordinated through the Special Programs Division of the Department of Education and requires documentation that supports a print disability. For information regarding eligibility, contact Leslie Bechtel Van Orman in Riverton, Wyoming (307) 857-9267 or send E-mail to leslie.vanorman@wyo.gov.
To help members of an IEP team or other student support teams make decisions about students who may benefit from AEM download our guide: What You Need to Know about the National Instructional Materials Accessibility Standard (NIMAS) and Accessible Education Materials (AEM): A guide for decision-making teams.
What does the WY AEM Clearinghouse do?
Once a child becomes eligible for services, the WY AEM Clearinghouse can provide school districts and educators with accessible education materials to be delivered to the student.   We work with school districts to ensure delivery of AEM to the student at the same time as other students receive their educational materials.
How are AEM formats requested?
School districts can contact the WY AEM Clearinghouse directly to request assistance in obtaining alternative formats of core education materials. Eligibility and request forms, as well as additional support information can be found on Wyoming's AEM website on our Educator Forms and District Resources page.
If we cannot provide the requested materials, then we will help locate other resources for the provision of accessible education materials, obtain quotes, and set up a purchase plan for school districts.  Call us today if you think you have a student that needs AEM!
Where is the WY AEM Clearinghouse located?
The Wyoming AEM Clearinghouse is located at Wyoming Institute for Disabilities in the College of Health Sciences Building on the University of Wyoming Campus. The building is located on the intersection of 9th and Clark Street.
If you are stopping in for a short visit, consultation, or to pick up a device, you may park in the small lot in front of the building. The receptionist can give you a temporary parking permit.  If you are arriving for the day, please contact us for a day pass. If you are visiting campus for an extended stay, more parking information is available through TransPark.
View Larger Map