Wyoming AEM Clearinghouse/Wyoming Institute for Disabilities
Dept 4298, 1000 E University Avenue
Laramie, WY 82071
Phone: (307) 766-5770
Toll Free: 1-888-989-9463
Fax: (307) 766-276
Email:
NIMAS@uwyo.edu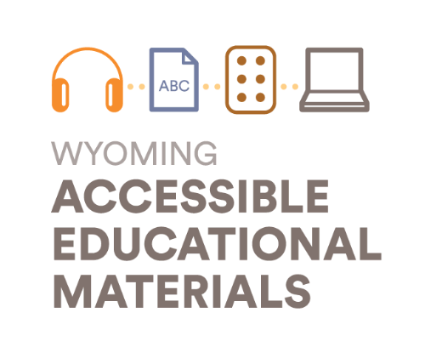 Educator Forms and District Resources
AEM Request Forms
To request accessible education materials, please complete the following forms and return to the listed individuals/organizations:
Download this form for student eligibility for visual impairment or blindness; physical limitations; or reading disabilities by clicking the title. This form needs to be printed and mailed or faxed.
Leslie Betchel Van Orman
Wyoming Department of Education
320 West Main
Riverton, WY 82501
Fax: (307) 857-9257
Download this two-page form to request AEM for a student by clicking the title.This form may be printed or E-mailed back to NIMAS/AEM. If E-mailing, please attached the completed to an E-mail.
If you receive a security warning in the Word, click options, choose "Enable this content", and select OK.
This form is also available in PDF form at (postal mail or fax return only).
Wyoming Accessible Education Materials (AEM) Clearinghouse
Wyoming Institute for Disabilities
University of Wyoming
Dept 4298, 1000 E University Avenue
Laramie, WY 82071
nimas@uwyo.edu
---
Resources
Wyoming Department of Education and Wyoming Institute for Disabilites accessible education materials.
Download this procedural document to request accessible materials in the state of Wyoming.
A power point presentation resource.
A recent U.S. Court of Appeals for the Second Circuit decision concluded the creation of accessible,
digital text from copyrighted materials (textbooks, workbooks, etc.) is considered Fair Use and is not a copyright violation.
Learn how this decision impacts accessible materials for students.
Supporting students with Accessible Educational Materials (AEM) transition from K-12 to employment.
Supporting students with Accessible Educational Materials (AEM) during the transition from K-12 to college/university.
AEM and the 21st Century Student 
What is AEM? And how can it support the students of the 21st Century?
---
NIMAS forms can be downloaded with Acrobat Reader.
*If you are having trouble downloading these forms, please E-mail nimas@uwyo.edu with the title of the form you are try to download and it will be sent to you as an attachment.