Wyoming AEM Clearinghouse/Wyoming Institute for Disabilities
Dept 4298, 1000 E University Avenue
Laramie, WY 82071
Phone: (307) 766-5770
Toll Free: 1-888-989-9463
Fax: (307) 766-276
Email:
NIMAS@uwyo.edu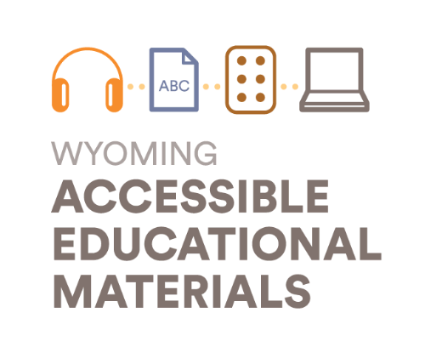 Training Modules
Looking for the module series What educators and parents need to know about AEM? They are still available for viewing>
Review the built-in accessibility features with a focus on ten apps that can be used to support AEM, such as Read2Go, Talking Calculator, CalcMadeEasy, VoiceDream Reader, Claro Speak, Fleksy, iReadWriter and Mbraille.
---
Check out built-in accessibility features that are comparable to Apple iOS devices.  Android tablets are a great second option for school districts looking for mobile computer devices for students.
---
Learn about the built-in accessibility features to support AEM. 
---
Explore the Windows platform to learn about some of the best built-in accessibility features.  This modules reviews the speech recognition program, the Narrator text-to-speech program, the Magnifier program, the setup for high-contrast screen colors for visually impaired users, and the process to enlarge font and mouse icon size, and more.
---
Discover the best literacy software applications enhance learning experiences for students with reading disabilities such as Read & Write, Kurzweil, and WYNN.  Literacy applications provide an interactive experience by using text-to-speech, word recognition, word highlighting, background masking, pronunciation helpers, and much more.
---
Learn about the options for audio text playback on PC, Mac, and mobile options.  This modules also reviews iPad apps from Bookshare and Learning Ally, such as Read2Go, Voice Dream Reader, and Learning Ally for DAISY audio playback.