Faculty and Staff
Andrea Shipley is the Project Coordinator, Senior for Wyoming Telehealth Network at the Wyoming Institute for Disabilities where she shares her passion to help provide quality and accessible healthcare to Wyomingites regardless of their zip code.
Andrea is a fourth generation Wyomingite, born and raised in Worland. She has worked in a variety of capacities with nonprofits across the Northwest including executive director, development director, program staff, board member, and volunteer. She comes to WIND from the National Multiple Sclerosis Society.
In her spare time, Andrea enjoys Wyoming's public lands by camping, kayaking and hiking with her family and dogs. She is an avid volunteer in the Cheyenne community and beyond. Andrea earned an associate degree in English from Northwest College, a bachelor's degree in English from the University of Montana, and a master's degree in public administration from University of Wyoming.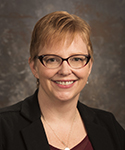 Andrea Shipley
Project Coordinator, Senior
Health Sciences 130D
307-766-2948 | ashiple4@uwyo.edu