Victoria "Vic" Pumilio
Vic Pumilio is a Project Coordinator Assistant for WIND. She earned her bachelor's degree in psychology and a minor in philosophy from the University of Wyoming. During her undergraduate experience, she worked in the UW Lab School as a library assistant. Prior to working at WIND, Vic worked as a Youth Developmental Professional at Big Brothers Big Sisters in Laramie, WY and served as a student journalist advisor for the UW Branding Iron.
In her five years in Laramie, she has come to enjoy outdoor hobbies such as hiking, camping and rock climbing. When the Wyoming winters put a stop to outdoor adventures, she switches to hobbies such as reading, writing and trying to train her two year old Great Dane.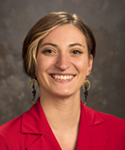 Vic Pumilio
Project Coordinator Assistant
Health Sciences 150-G
307-766-2938 | vcraig1@uwyo.edu