Device demonstrations are available to people with disabilities and their families, as well as anyone who might be interested in how these devices work, including providers of education, health and related services. Device demonstrations will help:
Increase understanding of the types of devices that can help with specific needs, such as talking on the telephone or reading mail

Improve knowledge of a device's features, and how those features differ from other devices that perform similar functions

Increase understanding of how device(s) can help at work, in school, at home and in your community
You can schedule an appointment with the WATR team to test devices. WATR staff are available both in person as well as through an on-line connection using videoconferencing technology.
Contact WATR Staff: 307-766-6187 or watr@uwyo.edu
Open Lab is on Wednesdays
and Thursdays
from 2 - 4 p.m.
Located in the WATR Lab, Health Sciences Building, Room 151 (at the intersection of 9th and Clark Streets, across from Turtle Rock Cafe) PARK IN HS LOT. You will need to register your vehicle information at the WIND Reception Desk.

By visiting Wyoming Assistive Technology Resources (WATR) Open Lab, you can learn about and have hands-on experiences with the AT offered through our short term loan program, as well as view what AT is available for sale in our reuse program.
We welcome AT users, students, instructors, community members, or anyone who wants to learn more about AT and resources.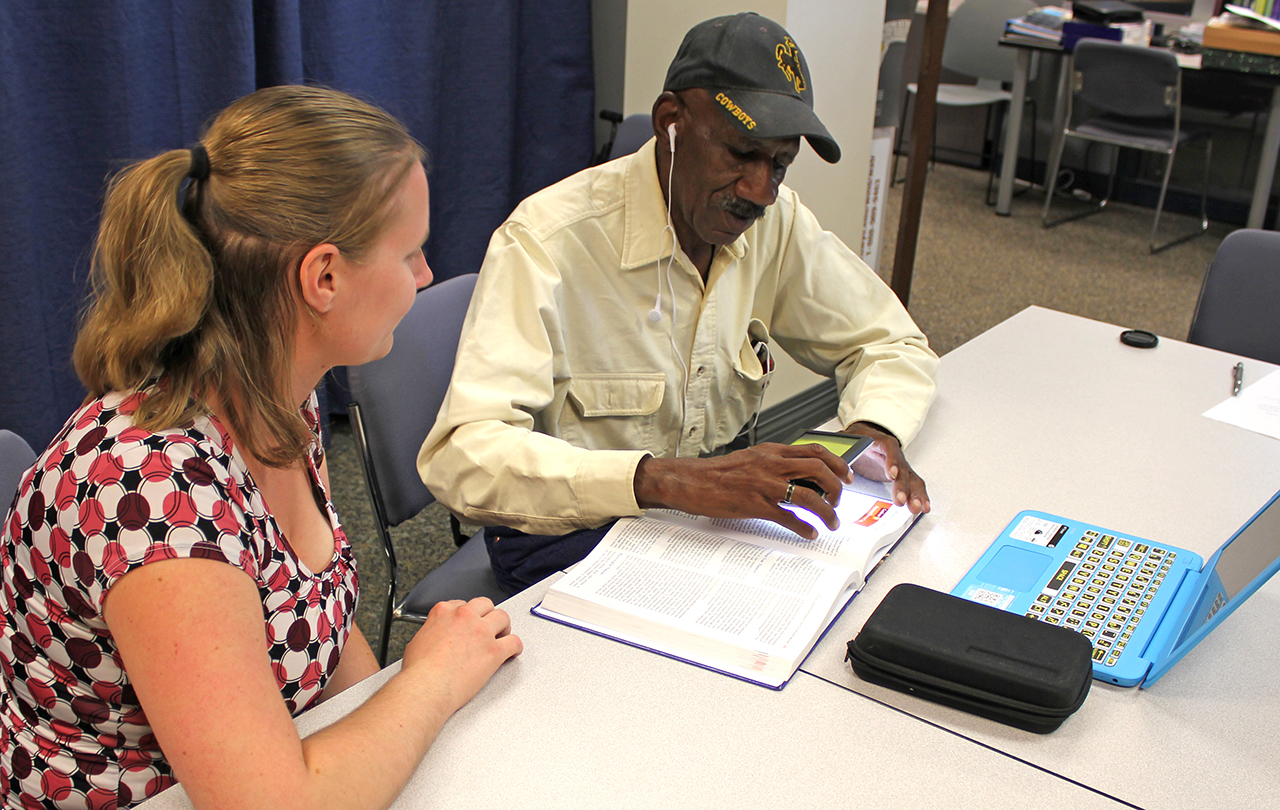 Open Lab is online for easy statewide access to WATR resources!
Join Open Lab anytime between 2 and 4 p.m. on Wednesdays and Thursdays, in person by appointment or through video conferencing technology. You can connect via Zoom from your PC, Mac, iOS, or Android. Link to join: https://bit.ly/watr-open-lab 
If you are a first-time Zoom user, please visit their support page and to learn how to navigate Zoom: Joining a Zoom Webinar
Also, you may be interested in Zoom Hot Keys and Keyboard Shortcuts.
Weekly Up-To-Date Schedule
Open Lab features different devices or themes each week. However, WATR staff are available to demonstrate all devices in the WATR lab, including those related to your particular need. 
January 19 & 20: Wyoming Technology Access Program (WyTAP) - Learn about this Wyoming specific financial loan program for aiding individuals in purchasing assistive technology or durable medical equipment. Borrow from $500 to $25,000 with extended payback periods of up to 70 months and low interest rates!
January 26 & 27: AT for Students with Disabilities - Learn about what assistive technology (AT) WATR has for short term loan that can aid students with learning disabilities, such as the Livescribe Symphony notetaking pen or the C-Pen Reader pen. Also consider joining ECHO in AT on Thursday, January 27 at 11 a.m. for Center on Inclusive Technology & Education Systems (CITES).
February 2 & 3: WyRAMP Project - Lean about The WyRAMP Project, a collaboration between WATR, Wyoming Life Resource Center, and the Goshen County Senior Friendship Center, which helps provide access to a person's home using a temporary ramp, increasing both safety and access.
February 9 & 10: Resources for Implementing Assistive Technology (AT) – Meet with the WATR team to learn about resources regarding assistive technology implementation in a school setting. Also consider joining ECHO in AT on Thursday, February 10 at 11 a.m. for "Why AT is 1% Inspiration and 99% Perspiration" with Daniel Cochran, ATP.
February 16 & 17: Wearable Technology – Learn about wearable technology such as the Wearable Talker-2 Message Communicator or the Fitbit Versa 3 Health and Fitness Smartwatch, both available for short-term loans.
February 23 & 24: Resources for Building Capacity in Assistive Technology (AT) – Meet with the WATR team to find out how we can help with assistive technology capacity building at your school. Also consider joining ECHO in AT on Thursday, February 24 at 11 a.m. for "What is Capacity Building Really Like?" with Daniel Cochran, ATP.