Developmental Screenings - Evaluación del desarrollo
Developmental Screenings
Taking a first step, waving "bye-bye", and pointing to something interesting are all developmental milestones, or things most children can do by a certain age. Children reach many milestones in how they play, learn, speak, act, and move. Developmental monitoring and screening are ways to track your child's developmental milestones.
What are Developmental Screenings?
The American Academy of Pediatrics recommends that children be screened for general development using standardized, validated tools at 9, 18, or 30 months and for autism at 18 and 24 months or whenever a parent or provider has a concern. Screenings help parents and professionals determine whether more in-depth assessment is needed, and screenings are free across Wyoming. Contact the Wyoming Child Development Center nearest you (shown below) to schedule a screening, or ask your doctor about your child's developmental screening. 
Download a PDF about Developmental Monitoring and Screening.
---
Evaluación del desarrollo
Dar un primer paso, decir "adios" con la mano y señalar algo interesante son todos indicadores del desarrollo o cosas que la mayoría de los niños pueden hacer a cierta edad. Los niños alcanzan los indicadores del desarrollo en la forma en que juegan, aprenden, hablan, actúan y se mueven. El control y la evaluación del desarrollo son maneras de fijarse en los indicadores del desarrollo de su hijo.
¿Qué es una evalucación del desarrollo?
La Academia Americana de Pediatría recomienda que se evalúe el desarrollo general de los niños en la consulta de 9, 18, y 30 meses. Además, se recomienda evaluaciones en las visitas de rutina al médico a los 18 y a los 24 meses para detectar los trastornos del espectro autista. Estas evaluaciones ayudan a padres y profesionales a determinar si un niño necesita una intervención más amplia, y los servicios son gratis por todas partes de Wyoming. Contacte el Centro de Desarrollo Infantil en Wyoming en el mapa (abajo), o consulte con su médico sobre una evaluación del desarrollo para su hijo.
Descargue un documento PDF sobre el control y la evaluación del desarrollo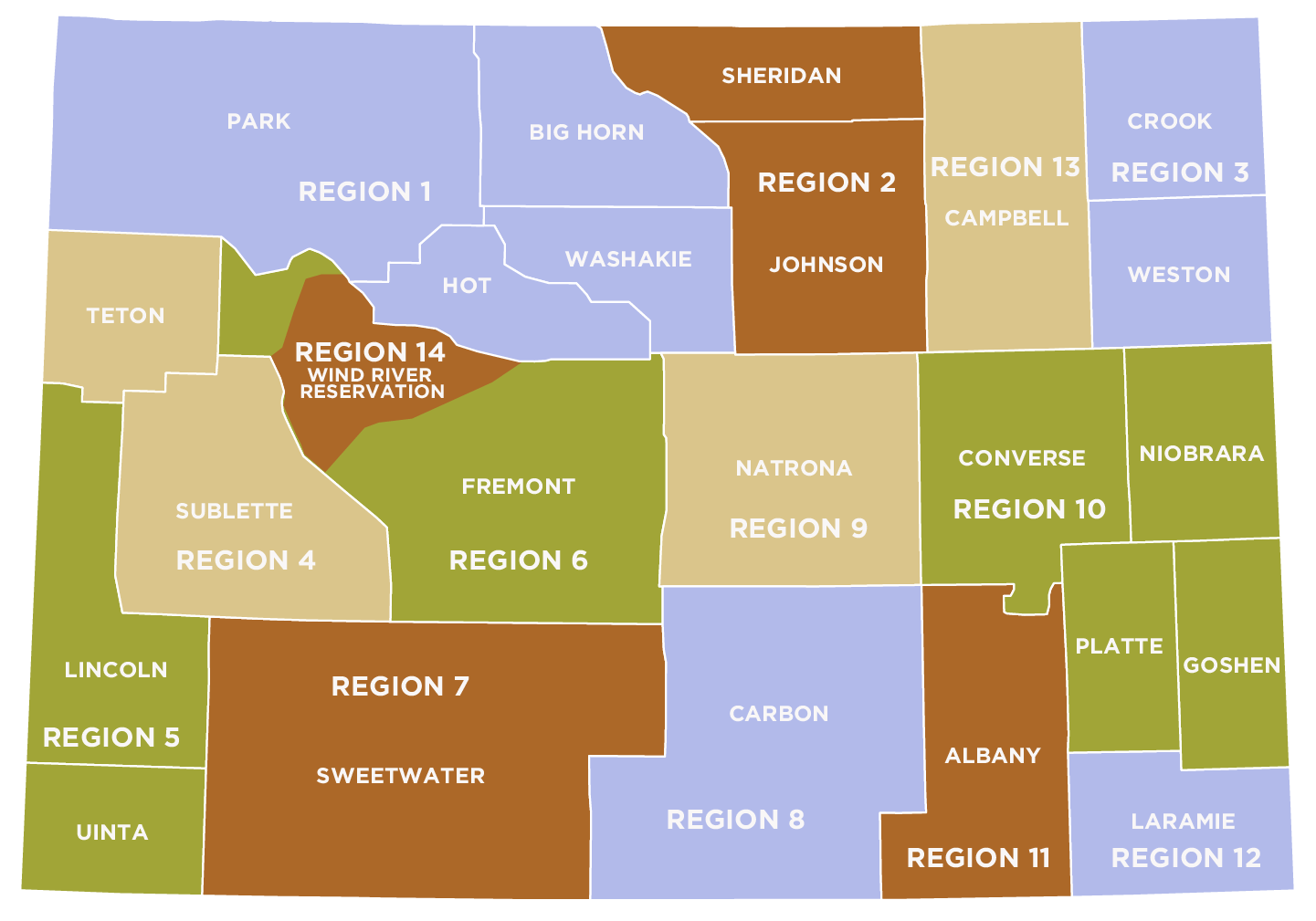 Region 1: Cody, 307-587-1331
Counties: Park, Hot Springs, Big Horn, Washakie
Region 2: Sheridan, 307-672-6610
Counties: Sheridan, Johnson
Region 3: Newcastle, 307-746-4560
Counties: Crook, Weston
Region 4: Jackson, 307-733-1616
Counties: Teton, Sublette
Region 5: Mountain View, 307-783-6602
Counties: Lincoln, Uinta
Region 6: Lander, 307-332-5508
Counties: Fremont
Region 7: Green River, 307-875-0268
Counties: Sweetwater
Region 8:
 Rawlins, 307-324-9656

Counties: Carbon
Region 9: Casper, 307-235-5097
Counties: Natrona
Region 10: Guernsey, 307-836-2751
Counties: Converse, Niobrara, Platte, Goshen
Region 11: Laramie, 307-742-3571
Counties: Albany
Region 12: Cheyenne, 307-632-2991
Counties: Laramie
Region 13: Gillette, 207-682-2392
Counties: Campbell
Region 14: Ft. Washakie, 307-332-3516
Counties: Wind River Reservation