Contact Us
Wyoming Institute for Disabilities
Dept. 4298; 1000 E. University Ave.
Laramie, WY 82071
Phone: (307) 766-2761
Toll Free: (888) 989-9463
TeleType: (800) 908-7011
Fax: (307) 766-2763
Email: uwwind@uwyo.edu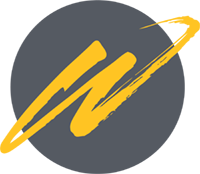 November Provider Spotlight - Dr. Grace Gosar and Pete Gosar
Published November 23, 2020
By Andrea Shipley, Project Coordinator, Senior for the Wyoming Telehealth Network
Mural at the Laramie Downtown Clinic Garden
For siblings, Dr. Grace Gosar and executive director of the Laramie Downtown clinic, Pete Gosar, telehealth is not just a priority - it is a labor of love. This Q&A discusses their triumphs and challenges with telehealth since March 2020 and will dig deeper into the incredible work of this free clinic.
When did you first hear about telehealth? How did you feel about it then? How do you feel about it now?
Dr. Grace Gosar: I would guess I heard about it 10 years ago. I just didn't feel like it was reality then. I looked at how my day went and the technology we had, and I didn't believe there was equipment or motivation to do it at my former work place. In March 2020, we started doing things differently—I see myself as an extender for specialty providers now, and it makes me a more flexible option. I am happy we were pushed into providing telehealth, and I don't think we will leave it as a clinic or even as a country. 
Pete Gosar: We heard about telehealth services a couple of ways—first, reading about it on the internet and second, we had some experience with electronic health records that intrigued us. That was where we first heard about it and knew that many of our patients do not have reliable transportation, and this could save them the trouble of getting to the clinic. Lack of reliable transportation caused patients to cancel many times.
When did you begin offering telehealth services? What prompted the need to offer these services?
Dr. Grace: It was March and it was the Coronavirus. We are a mostly volunteer clinic and we have limited paid staff, so if the paid staff were to get sick, we could not provide services. That really prompted us to take action. We had to be really careful about offering some sort of service but needing to remain well (as a staff) too. 
Pete: COVID really forced us to go down this road. We figured telehealth might save both patient and provider some time when you just need to check-in with a provider. But it has also been especially helpful for specialty appointments. 
What motivates you to continue offering telehealth services?
Dr. Grace: I think telehealth works better for our clients in certain instances. One of the reasons we started a Wednesday night clinic is because so many of our clients work during the day and cannot afford to miss work. It is exquisitely useful for our clients, and I think it works well for providers too. I don't think we even know the full breadth of what we can do with telehealth. I think telehealth is a wonderful extender to what we have to offer at the clinic. I have also sat in with specialty providers, and we often get a different outcome for patient health if their primary care physician is there. 
Pete: Telehealth is proving effective—it works! I see how important telehealth is now and how this is a real opportunity for people to connect with other specialists and make a healthcare plan that works for them. 
Contact Us
Wyoming Institute for Disabilities
Dept. 4298; 1000 E. University Ave.
Laramie, WY 82071
Phone: (307) 766-2761
Toll Free: (888) 989-9463
TeleType: (800) 908-7011
Fax: (307) 766-2763
Email: uwwind@uwyo.edu