Caring with Confidence is a program designed to educate Certified Nursing Assistants (CNAs) and other direct care workers on how to manage challenging behaviors that are often associated with dementia. The program focuses on the factors contributing to problem behaviors and non-medical interventions including strategies to handle wandering, agitation, and inappropriate sexual behavior. The training also includes information about caregiver stress and strategies to prevent burnout.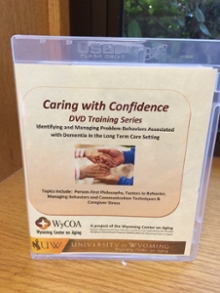 The DVD Training Series is $95.00 and includes
• A DVD recording of the training
• A USB with Training Modules, Training Script, Tips, Handouts, Self-Care Information, Learning Exercises, and Resources.
Training Modules
1) Person-First Philosophy (17:19 minutes plus discussion)
2) Factors in Behavior (23:50 minutes plus discussion)
3) Managing Behaviors (32:31 minutes plus discussion)
4) Communication Techniques & Caregiver Stress (28:39 minutes plus discussion)
Click Here to view an informational flyer.