Wyoming Natural Diversity Database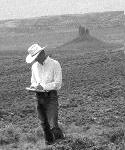 Our staff:
Dr. George P. Jones, Vegetation Ecologist
307-766-3009  |  gpjones@uwyo.edu
Head of Vegetation Ecology Program

1988 to Present: Responsible for characterizing the natural and semi-natural vegetation-types of Wyoming, focusing on ecological systems. This is accomplished through summary of information from published and unpublished documents, augmented with analysis of data collected in the field, to document the plant species composition, vegetation structure, dynamics, and distribution of vegetation- and cover-types throughout the state. This information also is used to correlate vegetation-types and cover-types from different classification systems with one another.
---
Education
B.S. Botany, Colorado State University, May 1976.
M.S. Zoology, University of Wisconsin-Madison, May 1984. Thesis: Microhabitat selection by small mammals in the Powder River Basin of Wyoming.
Ph.D. Botany, University of Wyoming, May 1991. Dissertation: Seedling establishment and adult water relations of Artemisia tridentata ssp. wyomingensis and Artemisia nova.
---
Research Interests
Relationships between vegetation, soil, and geologic substrate; landscape ecology; human uses of landscapes; biogeography.