Wyoming Natural Diversity Database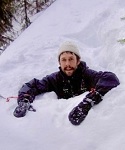 Our staff:
Zach Wallace, Biometrician
307-766-3042  |  zwallac2@uwyo.edu
November 2016 to Present: Responsible for conducting analyses and field studies of sensitive species across Wyoming, and assisting all WYNDD programs with study design and analysis. Current projects include research and monitoring of songbirds, raptors, bats, reptiles, and amphibians.
---
Education
B.A. Environmental Science and Music (double-degree), Bard College, June 2005. Thesis: Effects of Simulated Chronic Nitrogen Deposition on a Mixed-Oak Forest.
M.S. Wildlife Science, Oregon State University, June 2014. Thesis: Effects of Oil and Natural Gas Development on Territory Occupancy of Ferruginous Hawks (Buteo regalis) and Golden Eagles (Aquila chrysaetos) in Wyoming, USA.
---
Research Interests
Wildlife ecology, conservation biology, raptor biology, natural history, ecological modeling, spatial statistics.