Wyoming Natural Diversity Database
Range Maps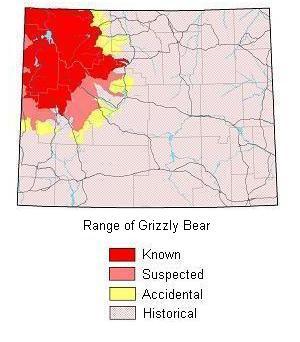 Range is typically defined as the aggregation of all map units thought to be occupied by individuals of the target taxon in the study area. Map units are typically defined by geographic space only (e.g., states, counties, watersheds, townships, GAP hexagons), with little consideration of underlying environmental variation. Because map units are usually coarse and simply-shaped, range maps are usually characterized by large, all-encompassing polygons with very little interdigitation of occupied and unoccupied space.
Range maps for selected taxon distributed by WYNDD use as their mapping unit 10-digit Hydrologic Units (watersheds; Simley and Carswell 2009). These range maps are attributed with values for "Occupancy," "Season," and "Origin." "Occupancy" values identify watersheds where a taxon is a "Known Recent Resident," "Suspected Recent Resident," "Accidental Occupant," "Historical Resident," or where the taxon is "Never a Resident." The "Season" attribute indicates the primary season of occurrence for the taxon within the watershed, and can be "Year-Round," "Summer Only," "Winter Only," or "Spring/Fall Only." Origin indicates whether the taxon is "Native and Indigenous," "Native but Reintroduced" (i.e., previously extirpated but reintroduced), or "Exotic."
Range maps are intended to provide an overview, at the statewide and regional scale, of the general pattern of occupancy for a taxon. Range maps are informed by WYNDD's occurrence data and are regularly reviewed by statewide experts for accuracy and currentness.
Please click here to download range or distribution data, or send questions to WYNDDGIS@uwyo.edu.