Wyoming Natural Diversity Database
Range Maps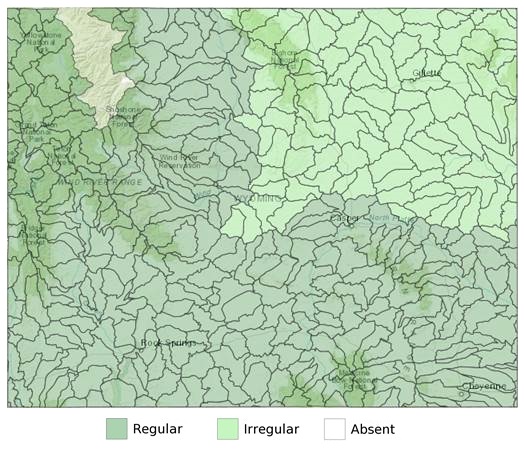 Range is typically defined as the aggregation of all map units thought to be occupied by individuals of the target taxon in a given area. Map units are typically defined by geographic space only (e.g., states, counties, watersheds, townships, GAP hexagons), with little consideration of underlying environmental variation. Because map units are usually coarse and simply-shaped, range maps are usually characterized by large, all-encompassing polygons with very little interdigitation of occupied and unoccupied space.
WYNDD's range mapping units are 10-digit Hydrologic Units (watersheds; Simley and Carswell 2009). For a given taxon, each hydrologic unit in Wyoming is attributed with occurrence type (regular, irregular, absent), origin and colonization types (expansion from natrual or introduced taxon, or direct introduction into HUC), life history activities (reproduction, migration, etc.) and whether or not there has been deliberate human-mediated translocation of individuals into the HUC to supplement extant population segments.
Range maps are intended to provide an overview, at the statewide and regional scale, of the general pattern of occupancy for a taxon. Range maps are informed by WYNDD's occurrence data and are regularly reviewed by statewide experts for accuracy and currentness.
View range and distribution online or visit our downloads page.
Please direct questions to WYNDDGIS@uwyo.edu.