Wyoming Natural Diversity Database
1000 E. University Ave.
Department 3381
Laramie, WY 82071
Phone: 307-766-3023
Fax: 307-766-3026
Email:
wyndd@uwyo.edu
Doug Keinath, Lead Vertebrate Zoologist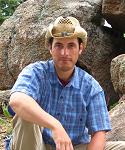 307-766-3013  |  dkeinath@uwyo.edu
Head of Vertebrate Zoology Program
March 2000 to Present: Responsible for developing and maintaining data on the distribution, natural history, conservation status, and habitat requirements of rare animal species in Wyoming. This is accomplished through field research projects and review of existing literature and museum resources.
Education:
B.S.E. Interdisciplinary Engineering, University of Michigan, April 1993.
B.S. Natural Resources, University of Michigan, April 1993.
M.S. Zoology, University of Wyoming, May 2000. Thesis: Habitat Use by Red-Backed Voles (Clethrionomys gapperi) in the Rocky Mountains: Issues of Movement, Scale and Habitat Affinity.
Research Interests:
Wildlife ecology, conservation biology, mammalogy.