Wyoming Natural Diversity Database
1000 E. University Ave.
Department 3381
Laramie, WY 82071
Phone: 307-766-3023
Fax: 307-766-3026
Email:
wyndd@uwyo.edu
Dr. Doug Keinath, Lead Vertebrate Zoologist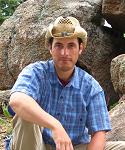 307-766-3013  |  dkeinath@uwyo.edu
Head of Vertebrate Zoology Program
March 2000 to Present: Responsible for running the vertebrate zoology program, which develops and maintains data on the distribution, natural history, and conservation status of rare animal species in Wyoming. Under Dr. Keinath's direction, WYNDD zoologists conduct field research throughout Wyoming, with a particular focus on population monitoring, habitat relationships, and targeted conservation science. The vertebrate zoology program is taxonomically diverse, with major projects investigating amphibians, bats, songbirds, and small mammals. 
Education:
B.S.E. Interdisciplinary Engineering, University of Michigan, April 1993.
B.S. Natural Resources, University of Michigan, April 1993.
M.S. Zoology, University of Wyoming, May 2000. Thesis: Habitat Use by Red-Backed Voles (Clethrionomys gapperi) in the Rocky Mountains: Issues of Movement, Scale and Habitat Affinity.
Ph.D. Ecology, University of Wyoming, May 2015.  Dissertation: Evaluating the Vulnerability of Wyoming's Wildlife to Habitat Disturbance.
Research Interests:
Exploring the ecological relationships of rare and sensitive elements of western North American biodiversity, particularly as they inform conservation in the face of anthropogenic change.