Wyoming Natural Diversity Database
1000 E. University Ave.
Department 3381
Laramie, WY 82071
Phone: 307-766-3023
Fax: 307-766-3026
Email:
wyndd@uwyo.edu
Joy Handley, Botanist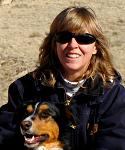 307-766-6652  | thuja@uwyo.edu
December 2003 to Present: Responsible for creating maps for field surveys and reports and for entering, maintaining, and updating rare plant population data from across Wyoming in the Biotics database.
Education:
A.S. Animal Agriculture, Stockbridge School of Agriculture, 1985.
B.S. Range Management, University of Idaho, 1993.
M.S. Botany, University of Wyoming, 2005. A Floristic Inventory of the Payette National Forest and Vicinity.

Research Interests:
Biogeography, plant environment relationships, systematics, and community ecology.