Wyoming Natural Diversity Database
Lindsey Washkoviak, Wetland Ecologist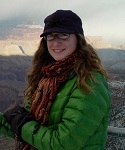 307-335-2139  |  lwashkov@uwyo.edu
January 2015 to Present: Responsible for managing and conducting field research projects investigating wetland condition throughout WY.  Current research includes the development of new methods to assess wetland condition in highly managed landscapes.
Education:
B.S. Forest Ecosystem Restoration and Management, University of Wisconsin – Stevens Point. May, 2008
M.N.R, Utah State University.  Thesis: Assessing Wetland Condition, Functions and Values in Irrigated Landscapes. In progress.
Research Interests:
Wetland ecology; vegetation ecology; botany; relationships between human uses of landscapes and changes in habitat.