Wyoming Natural Diversity Database
Mark Andersen, Spatial Ecologist/GIS Analyst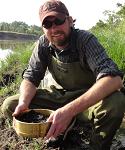 307-766-3036  |  mda@uwyo.edu
October 2007 to Present: Responsible for species distribution modeling, geospatial data processing, and support of day-to-day GIS work within WYNDD.
Education:
B.S. Geography, GIS Minor, Northwest Missouri State University, 2000.
M.A. Geography, University of Wyoming, 2005. Thesis: Reconstructing landscape-scale tree invasion using notes in the Medicine Bow Mountains, Wyoming, USA.
Research Interests:
Ecological modeling, spatial statistics, landscape ecology, exotic/invasive species, and vegetation dynamics.