Wyoming Natural Diversity Database
1000 E. University Ave.
Department 3381
Laramie, WY 82071
Phone: 307-766-3023
Fax: 307-766-3026
Email:
wyndd@uwyo.edu
Melanie Arnett, Database Specialist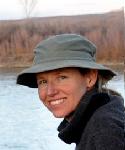 307-766-2296  |  arnett@uwyo.edu
March 2005 to Present: Responsible for managing data within the Biotics database and GIS-based databanks, handling data requests, batch uploading large datasets (see our Submit Data page), and maintaining the WYNDD website.

Education:
B.S. Landscape Design, Colorado State University, 1992.
M.S. Botany, University of Wyoming, 2002. Thesis: Floristic Inventory of the Southern Gunnison and Northeast Uncompahgre Basins, Colorado.
Research Interests:
Bioinformatics, data visualization, information systems, taxonomy, biogeography, plant evolution.