Wyoming Natural Diversity Database
Oliver Wilmot, Invertebrate Zoologist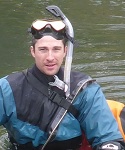 307-766-3013  | owilmot@uwyo.edu
July 2016 to Present: Responsible for developing and maintaining data on the distribution, natural history, conservation status, and habitat requirements of rare invertebrate species in Wyoming. Oliver is currently leading a project investigating the distribution of native freshwater mussels in Wyoming.
Education:
B.S. Wildlife and Fisheries Biology and Management, University of Wyoming, May 2013
M.S. Biological Sciences, University of Alabama, June 2016. Thesis: Temperature dependence of leaf litter breakdown and invertebrate community structure in nine streams along a regional thermal gradient.
Research Interests:
Aquatic ecology, invertebrate zoology, entomology, food web dynamics, fisheries biology, and invasive species.