Wyoming Natural Diversity Database
Teresa Tibbets, Freshwater Ecologist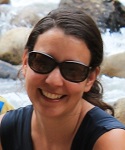 307-335-2139  |  ttibbets@uwyo.edu
December 2016 to Present: Responsible for the development, testing, and reporting of methods to assess wetland condition, and benefits of wetland functions, or values, such as biodiversity, ecosystem services, and wildlife habitat in highly managed basins in Wyoming.
Education:
B.S. Biology, Arizona State University, May 1999
Ph.D. Biology, University of New Mexico, May 2005. Dissertation: Ecological stoichiometry of riparian trees and arthropods: effects of flooding and exotic species along the Middle Rio Grande, NM.
Research Interests:
Ecosystem studies, aquatic ecology, conservation of freshwater systems, invasive species, nutrient cycling, monitoring and assessment of wetland and stream ecological condition and value.