Wyoming Natural Diversity Database
Zach Wallace, Assistant Vertebrate Zoologist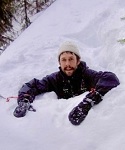 307-766-3042  |  zwallac2@uwyo.edu
November 2016 to Present: Responsible for conducting field projects and analyses on sensitive animal species across Wyoming. Current projects include research and monitoring of songbirds, raptors, reptiles, and amphibians.
Education:
B.A. Environmental Science and Music (double-degree), Bard College, June 2005. Thesis: Effects of Simulated Chronic Nitrogen Deposition on a Mixed-Oak Forest.
M.S. Wildlife Science, Oregon State University, June 2014. Thesis: Effects of Oil and Natural Gas Development on Territory Occupancy of Ferruginous Hawks (Buteo regalis) and Golden Eagles (Aquila chrysaetos) in Wyoming, USA.
Research Interests:
Wildlife ecology, conservation biology, raptor biology, natural history, ecological modeling, spatial statistics.