Finance System
The WyoCloud Finance system will centralize and replace outdated systems across UW, including those handling financial management, budgeting, and external grants. The system will allow for integrated data reporting across all university systems to enable UW to make informed strategic decisions about our financial resources.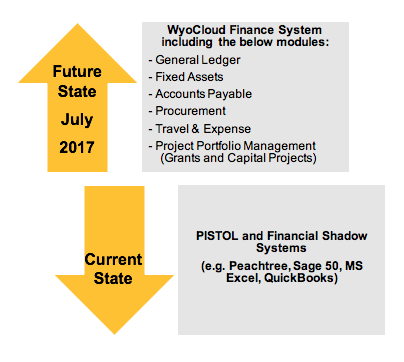 FUTURE STATE WITH WYOCLOUD
WyoCloud will change the way the University does business at every level and will affect every user on campus. On this page, we will be continually posting changes that will be coming with the Finance system. If you would like more information on a specific change, please email wyocloud@uwyo.edu and the UW module lead will provide more information.
We are following a Solution-Driven Implementation Approach for WyoCloud. Solution-Driven Approaches focus on the Oracle Cloud delivered functionality and how it can be used to fit the University of Wyoming's needs. This approach drives performance improvement discussions by evaluating the software's leading practice processes. It also leads to more hands-on day-in-the-life process experience for the end user. 
PROCUREMENT 
Big changes are coming for how UW buys goods and services with WyoCloud. Through WyoCloud, the University of Wyoming is embarking on a strategic sourcing initiative to leverage the spending power of the university. Suppliers will go through a competitive solicitation process to be chosen to supply the entire university with select goods and services (i.e. office supplies, computers and laptops, lab supplies). By working with competitive suppliers, UW will get the best prices and realize savings as an institution. In addition to the Procurement solution, there are many other exciting changes through the WyoCloud system.
In WyoCloud, a number of new terms will be used that are new to the UW Procurement module.

Vendors will now be called suppliers.
A requisition will be placed to order all goods and services instead of a purchase order.
The requestor is no longer the individual who created the purchase order in PISTOL. In WyoCloud, the requestor is the individual who initiated the requisition for goods and services. All University employees can be requestors.
You no longer have to walk to your department's accountant office to ask for office supplies to be ordered. Instead, you can place orders for computers and laptops, scientific supplies, and office supplies yourself with a requisition through the WyoCloud Procurement module. This centralized purchasing point allows departments to look at and track purchases in one place. All items sold through the purchasing portal will be the preferred vendor for the University. There are many benefits to ordering goods through WyoCloud Procurement.

Spend less time searching for products online and comparing prices
Aligns with the University goal to better manage and use resources since vendor products will be at the best negotiated price
Faster requisition (PO) processing since contracts will already be negotiated and agreed upon
When purchasing, actual units of measure will now be required to be entered in the requisition. With the current process, the purchaser is instructed to use the unit of measure 'EA' (each) and to include the actual ordered quantity on a PO attachment.  With WyoCloud, services will be entered by dollar amount and goods will be entered by quantity of the goods that were ordered.
The Supplier Registration Portal will give suppliers the ability to begin the supplier request process themselves. Procurement has the sole responsibility to setup and finish creating suppliers in WyoCloud. This is a shift from sharing this task with Accounts Payable
WyoCloud will also introduce a new concept for outside contracts called DocuSign. Signatures for outside contracts will now be done electronically through DocuSign. These contracts will be routed to appropriate signature authorities electronically by the legal office in hours, not days.
Click to enlarge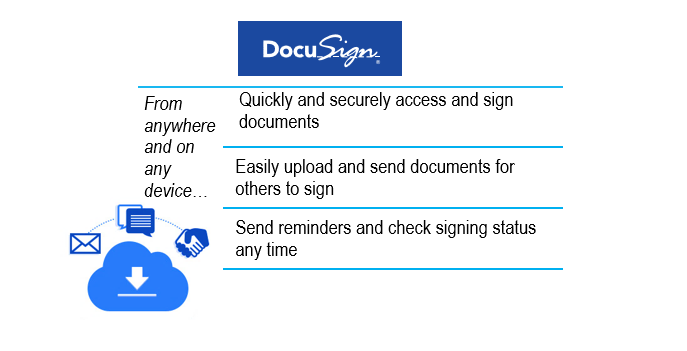 TRAVEL & EXPENSE 
Through the WyoCloud Travel & Expense module, UW employees will no longer have to manually fill out reimbursements on paper forms. Instead, all reimbursements and cash advance processes will be performed in WyoCloud. This change will significantly expedite the reimbursement submission process and be more convenient for UW's employees.
In WyoCloud, reimbursements are now called expense reports.
All expense reports and cash advance processes will be entered in the WyoCloud system. Instead of filling out and emailing paper forms to get your expenses approved, the system has built in approvals to route your requests to the right approver. By entering your expenses into WyoCloud, the number of days to receive your reimbursement will be significantly reduced.

Through conversations with business managers participating in system testing, the WyoCloud team is now discussing and exploring the option for faculty to potentially be able to delegate the process of filling out an expense report to department accountants. For more information, please reference the Delegation section below.
WyoCloud Expenses also has a mobile app! Through the app, you can upload your receipts to your expense report using your phone's camera, enter your expenses on the go as you accumulate them, and submit your expense report when all your receipts and expenses have been entered. The ability to create your expense report on your phone will expedite the report submission process and be more convenient for UW employees.
With WyoCloud, non-employees (i.e. student workers, guest lecturers, etc.) will still be setup as suppliers to be reimbursed. 
The project team is considering potentially using the Expense module for P-Card processing. If it is possible to use the Expense module, the P-Card charges would flow through just like other expenses and the cardholder would be responsible for reconciliation. 
APPROVAL PROCESS:
Requisitions, Change Orders, Expense Reports, and Payment Requests
The approval process for requisitions, change orders, expense reports, and payment requests will have additional approvals configured for dollar amounts and delegation options for when you would like the department accountant to confirm or correct what you have entered in the system.
Dollar thresholds will be added to the approval process for requisitions, change orders, expense reports, and payment requests. The system will automatically route the online form to the approval level required based on dollar amount. The approver can utilize WyoCloud's mobile capabilities and system generated email notifications to approve any of the requested items. These additional approvals help to keep UW accountable to the budget.

Business Managers approve up to $99,999.99
Associate VP/ Dean/ Director approve $100,000 - $249,999.99

For requisitions, if the total is between these two amounts it will dispatch after this group approves.

VP approves $250,000 - $999,999.99

If the total is within this range the previous group (Associate VP/ Dean/ Director) will approve as well as the VP. The requisition would dispatch after this approval.

The President approves $1,000,000 and up.

If the requisition is above one million dollars, the two previous groups (Associate VP/ Dean/ Director and VP) will approve prior to the President's approval. The requisition would dispatch after this approval.
DELEGATION FOR SELF-SERVICE:
Requisitions, Change Orders, Expense Reports, and Payment Requests
A big change for UW with WyoCloud is the significant amount of self-service functionality that will be available when the system is released in July. Previously, business managers and department accountants have been responsible or assisted with many tasks that UW faculty and staff will now be able to enter through self-service. Through conversations with business managers participating in system testing, the WyoCloud team is now discussing and exploring the option of adding department accountants as delegates for expense reports and allowing the department accountants to be made the requestor for requisitions. Even with self-service functionality, we understand that not every faculty and staff member will be able to confidently fill out the correct accounting information so the WyoCloud team is working hard to allow the delegation and assignment to department accountants through self-service.
Requisitions and Change Orders

The individual creating the requisition is who the system classifies as the requestor. While performing the self-service process to order goods, the requestor can assign the department accountant to be the requestor so that they can update the information entered if necessary. The requisition would then appear in the department accountant's worklist. They can be notified offline that a submission requires their review. The department accountant can then make any changes needed before submitting to the approval workflow. Only if the requestor changes the requestor name to the department accountant will the accountant be able to update the requisition before it is submitted through the approval workflow. The requestor assignment is only valid for that specific requisition. When the next requisition is created by the individual, they will again have to enter the department accountant as the requestor to allow for updates to be made.

Expense Reports

For expense reports, the user can assign a delegate to create expense items and submit expense reports for approval. If a user assigns a delegate, they are still capable of creating and submitting expense reports for themselves. The delegation for expenses is indefinite. Unlike assigning the department accountant to every requisition you would like them to have the ability to update, the delegation in expenses will apply to every expense item and report until the delegate is removed for all expense.

Payment Requests

The invoice is entered into WyoCloud by the department accountant, who knows the correct accounting to use.
CHANGES TO INTERDEPARTMENTAL REQUESTS (IDRs)
Interdepartmental Requests, or IDRs, will experience a name change with WyoCloud to Interdepartmental Transfers, or IDTs. Today, IDRs involve the use of carbon copy forms. With WyoCloud, the new IDTs will significantly improve the process to make it more effective and efficient across the University.
More details on these changes will be provided as they become available.
PROJECT PORTFOLIO MANAGEMENT (PPM)
(GRANTS AND CAPITAL PROJECTS)
When WyoCloud goes live, InfoEd will be used for pre-awards and proposal development. Once awarded, all grants will be tracked financially through WyoCloud.
 Project Portfolio Management (PPM) for Grants will be a means of complete financial tracking and reporting of Sponsored Research for UW. PPM for Capital Projects will allow UW Operations to better track Capital Project spending across budget categories.
Awards (Grants) will be set up with one or multiple Projects associated to the award, similar to the numbering scheme used in InfoEd today. Separate projects will be set up for cost share components and grants with any program income.
Projects will have budgetary control at the budget category level.
Transactions will only require POET information – Project ID, Organization (Department), Expenditure Type, and Task Number. Accounting will be driven by system configuration based on the POET information.
Reports can be generated for use internally as management reports or for external reporting to federal agencies.
Billing and revenue recognition will be system-driven, adding insight into metrics such as Aging Accounts Receivable.
Project Portfolio Management Terms
The Use of POET in WyoCloud
POET can be best explained using the graphic below:
When you need to make an invoice for an award, you will use POET information to charge the award correctly:
Click to enlarge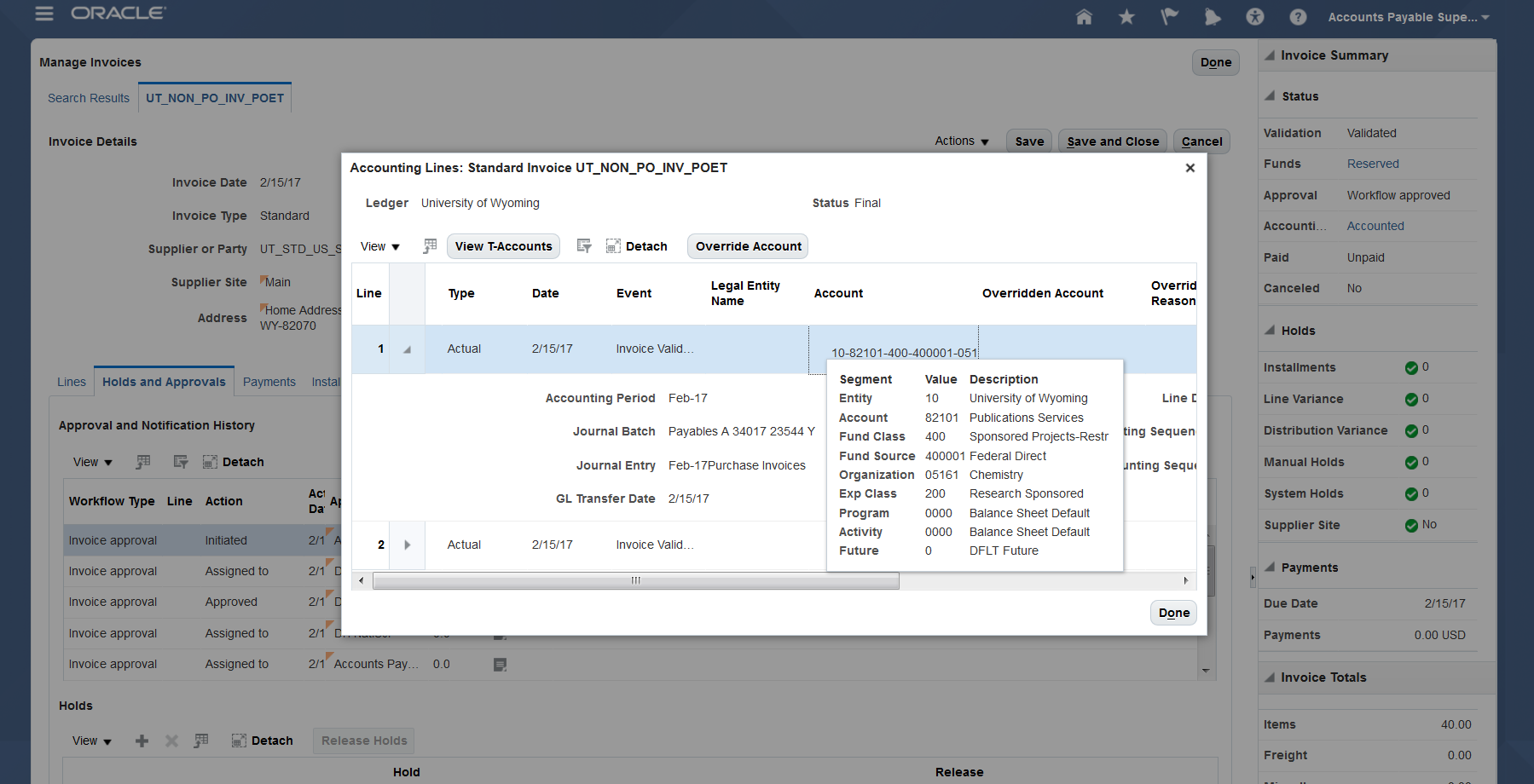 Simplified Grant Setup Business Process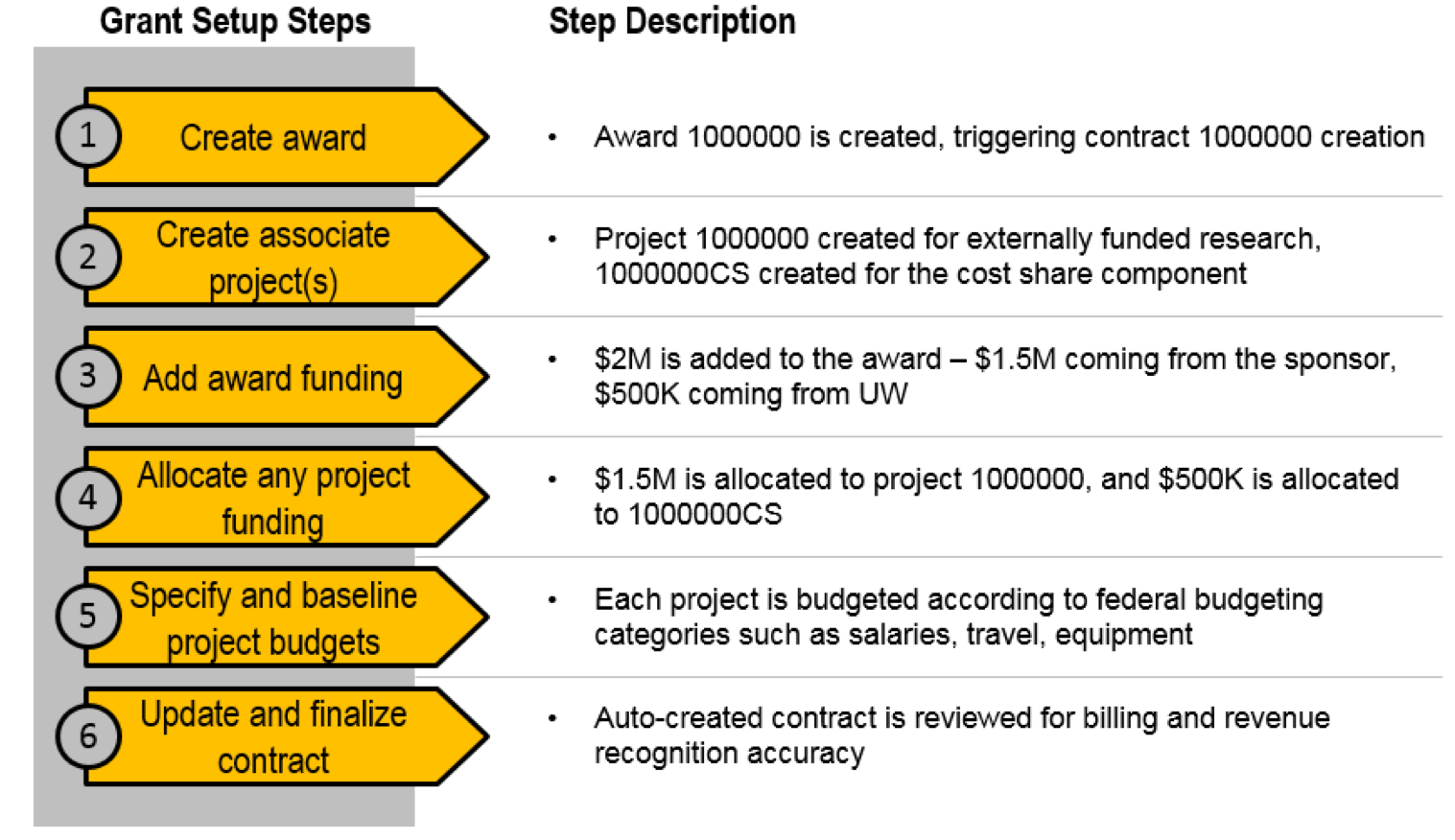 Sample View of the WyoCloud Award Homepage
Click to enlarge
GENERAL LEDGER 
WyoCloud General Ledger will increase real-time visibility of your department's financials for effective decision making and more control of your financial results. You can drill down to any level of detail to view balances and subledger transactions for a view of your department's entire financial picture.
The General Ledger module in WyoCloud will have a totally different look to how the General Ledger currently looks in PISTOL. With the new Chart of Accounts structure that will be implemented in July with WyoCloud, you will have the ability to track transactions on a more granular level than is currently possible in PISTOL.
BUDGETARY CONTROL

The Budgetary Control module is a completely new functionality for UW that is closely related to the General Ledger. Budgetary Control will allow the Budget Office to create and manage budgets at a granular level to show a more complete picture of UW's spending.
 Currently at UW, budgets are managed manually in spreadsheets. With WyoCloud, managing budgets will be a more automated and controlled process with the ability to control the budget on a segment-by-segment level. WyoCloud will be a central location to keep track of UW's budget.
ACCOUNTS PAYABLE

The Accounts Payable module has modern and convenient changes on the way for UW. There will be fewer paper forms and more information directly entered, approved, and available in WyoCloud.
Currently, payment requests are done through a paper form that must be mailed or walked over to the Accounts Payable department to be submitted. With WyoCloud, these payment requests can be entered online directly by the department. Invoices for requisitions and purchase orders will be handled by the Accounts Payable department. 
FIXED ASSETS
All UW Assets and their attributes will be tracked in WyoCloud instead of PISTOL and other shadow systems. The traditional way of managing assets-manual processing and disjointed systems—is slow, expensive, and error prone. With WyoCloud, you can manage your assets in a single system that automates many standard transactions to reduce these costs and improve the accuracy of fixed-asset transactions.
When an asset is purchased through the Procurement or PPM modules, the asset will feed over into the Fixed Asset module to be tracked when they are acquired and ready to use. You no longer have to manually enter the asset into a system to be tracked due to the automated business processes in WyoCloud.
GO-LIVE & TRAINING
In July 2017, the new WyoCloud Financial system will go-live replacing PISTOL and its shadow systems.  Training on the new system will begin in June 2017. More information about training will be sent out and posted in the coming months. If you have any questions – please email wyocloud@uwyo.edu.