4th H for Health Challenge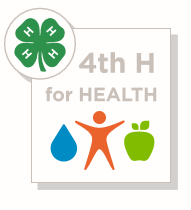 Are your 4-Hers ready to commit to the 4th H? Your club can take on the 4th H for Health Challenge and be entered in a drawing in your county to win $100! The challenge is to bring three healthy practices to your 4-H meetings and set an example of healthy eating and physical activity habits for 4-H youth.
How does it work?
It's easy. Serve a fruit or vegetable as a snack at three meetings. Serve water as the main beverage at six meetings. Add 15 minutes of physical activity at nine meetings.


Why is this important?
By drinking right, moving more, and snacking smart during 4-H meeting times, club leaders can encourage healthy choices. Learning these habits early can have a lasting impact on the health of 4-H'ers. Once the challenge is complete, we hope clubs will have established a new norm and will continue to practice healthy living: the 4th H.


How do I get started?
Click here to register.
Complete the pre-program survey.
Download a 4th H for Health Challenge Tracking Form.
Record the dates of your healthy meeting activities on the tracking form throughout the year.
Send your completed form to mbrittin@uwyo.edu by September 30 to enter your club in the prize drawing.


How can I make it fun?
Download a leader's packet  or visit the Healthy Kids Hub to find more resources. From healthy snack recipes to fun, active games, the Healthy Kids Hub provides additional support and ideas to make it easy for club leaders.


Want to learn more?
Contact Megan Brittingham, 4-H Extension Educator: 307-532-2436 or mbrittin@uwyo.edu with questions or to schedule a kickoff event! A Nutrition and Food Safety educator will come to your club meeting or event to help you get started with active games and healthy snacks.