Department of Molecular Biology
College of Agriculture and Natural Resources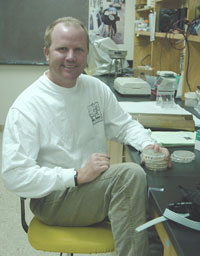 Dr. Peter Thorsness
Professor
Department of Molecular Biology
University of Wyoming
Laramie, WY 82071
thorsnes@uwyo.edu
voice: (307) 766-2038
fax: (307) 766-5098
---
Research Statement
The faithful and timely inheritance of mitochondrial DNA and mitochondrial compartments is largely obligate in most eucaryotic cells.  Virtually every cell in multi-cellular organisms is dependent upon mitochondria for energy production and other important biochemical activities.  These important and, in some cases, essential functions are conserved in more experimentally tractable single-cell organisms.  The genetic and biochemical analysis of mitochondria in the yeast Saccharomyces cerevisiae has served as the paradigm for establishing mitochondrial function.  A detailed biochemical understanding of many aspects of mitochondrial biogenesis has been elucidated by a number of different laboratories using a combination of elegant classical genetic, molecular genetic, and powerful biochemical techniques.
My laboratory has taken special interest in determining the cellular activities that maintain the genetic integrity of mitochondrial DNA (mtDNA).  Genomic analyses of both mitochondrial and nuclear genomes from many different organisms has made clear that the evolution of eucaryotic cells has been accompanied by the transfer of genetic information from mitochondria to the nucleus.  For years, there has been evidence for the continuing transfer of mtDNA sequences to the nuclear genome, largely as functionally inoperative fragments of mtDNA integrated randomly in the nuclear genome.  Based in part on this observation, we developed an assay for the "inadvertent" transfer of mtDNA to the nucleus in the yeast S. cerevisiae.  We found that this transfer, an event we refer to as the "escape" of mtDNA, occurs frequently (~1x10-5 events/cell division) and is dependent upon a number of nuclear genetic loci.  Over the past few years we have identified, cloned, and characterized the genetic loci that when mutated alter the rate at which mtDNA escapes to the nucleus.  Our analysis has revealed several important biochemical processes, required for effective inheritance of mitochondrial DNA and mitochondria, are important determinants of the maintenance of mitochondrial genetic integrity.
Mitochondrial genetic integrity is dependent upon mitochondrial morphology:  We have isolated mutations in four genetic loci that simultaneously alter the rate of mtDNA escape and the shape and distribution of mitochondrial compartments.  At least one of these mutations also increases the rate of mitochondrial turnover by vacuoles, the degradative organelle of yeast cells.  The turnover of mitochondria is the basis for the elevated rate of mtDNA escape in this mutant strain.  Several other mutations display a condition-specific defect in mitochondrial morphology, a corresponding condition-specific increase in the escape of mtDNA, and a corresponding condition-specific mtDNA inheritance defect.
The escape of mtDNA to the nucleus is a function of the physical state of mtDNA in mitochondria:  MtDNA in many organisms is packed in a form generically referred to as "nucleoids".  The mtDNA nucleoids of yeast are composed of at least two dozen proteins complexed with several genome equivalents of mtDNA, which are often cross-linked by numerous recombination junctions.
---
Some References:
Christopher P. Smith and Peter E. Thorsness (2007) "Different abilities of ADP/ATP carriers Aac1, Aac2, and Aac3 to support respiratory and fermentative growth of yeast" submitted

Brian F. Francis, Karen H. White and Peter E. Thorsness (2007) "Mutations in the Atp1p and Atp3p subunits of yeast ATP synthase differentially affect respiration and fermentation in Saccharomyces cerevisiae" J. Bioenergetics & Biomembranes 39: 127-144

Sujin Park, Theodore Hanekamp, and Peter E. Thorsness (2006) "Yme2p is a Mediator of Nucleoid Structure and Number in Mitochondria of the Yeast Saccharomyces cerevisiae" Current Genetics 50: 173-182

Christopher P. Smith and Peter E. Thorsness (2005) "Formation of an energized inner membrane in mitochondria with a gamma-deficient F1-ATPase" Eukaryotic Cell 4: 2078-2086

Na Xu, Mary K. Thorsness, and Peter E. Thorsness (2005) "Mitochondrial DNA impacts the morphology of mitochondrial compartments" Gene 354:37-42

Douglas J. Kominsky, Mary P. Brownson, Dustin L. Updike and Peter E. Thorsness (2002) "Genetic and Biochemical Basis for Viability of Yeast Lacking Mitochondrial Genomes"  Genetics  162: 1595-1604

Theodor Hanekamp, Mary K. Thorsness, Indrani Rebbapragada, Elizabeth M. Fisher, Corrine Seebart,, Monica R. Darland, Jennifer A. Coxbill, Dustin L. Updike, and Peter E. Thorsness (2002) "Maintenance of Mitochondrial Morphology is Linked to Maintenance of the Mitochondrial Genome in Saccharomyces cerevisiae"  Genetics 162: 1147-1156
---