Facilities
About the AHC
Our Building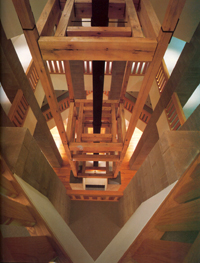 In 1993 the AHC and the University Art Museum occupied the multiple-award-winning Centennial Complex. Internationally-acclaimed architect Antoine Predock says of his building's unique design: "Throughout Wyoming there is a sense of landscape in formation.... The appearance of this 'archival' mountain can be thought of as parallel to the slow but certain geologic upheaval."

The AHC occupies 60 percent of the building's 127,000 square feet. The AHC's portion of the complex is named for Eleanor Chatterton Kennedy, daughter of a former Wyoming governor, and for Joe and Arlene Watt, cattle ranchers and descendants of Wyoming pioneers.
Alfred Jacob Miller Classroom
The Alfred Jacob Miller Classroom, funded by the Robert Graff Family, is used by AHC reference archivists to orient classes (UW undergraduate, high school, and others) to the procedures and collections at the Center. The AHC works with more classes than most university archives and special collections, and we are grateful to the Graff family for providing a long-needed space dedicated to this purpose. The room is named in honor of early 19th century artist Alfred Jacob Miller, who created some of the earliest paintings of the land later to become Wyoming.
Previous generations of the Graff family donated an unparalleled collection of Miller's works to the AHC, which are on display in the 2nd floor loggia of the Centennial Complex.
George A. Rentschler Room
The American Heritage Center's George A. Rentschler Room is home to ten significant western paintings—nine Henry Farnys and one Frederic Remington. These paintings appear as they did in the library of George Adam Rentschler, New York businessman and western enthusiast.
Learn more about the Rentschler Room by viewing our brochure.
Public Use Rooms Rental
These and other rooms in our facility are available for public use. To inquire, please contact Amanda Tetherow (307-766-5066 or atethero@uwyo.edu) for more information.