University of Wyoming Alumni Association
License Plate Program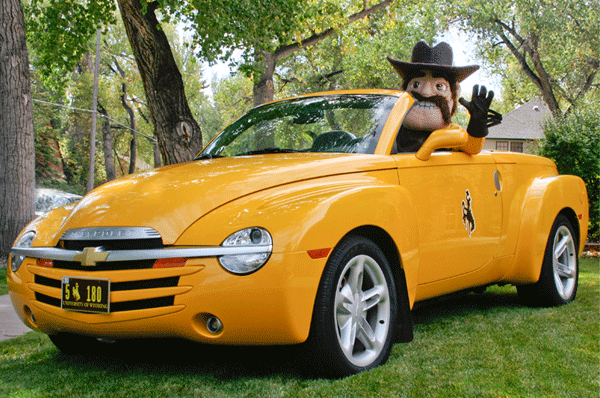 UW License Plate Program
For those UW fans who currently have the UW Brown license plate, new UW plates on a gold background will be issued in 2017. Look for a post card from WYDOT approximately 3 months prior to your registration expiration and follow the instructions to renew and pay online. The first post cards are expected to be mailed by mid-October. The process is simple and you will retain your current plate number.  Plates will be mailed to the county listed on the plate. If you live in a different county than the county on the plate, you are responsible for making arrangements for pick-up/delivery of plates. The cost is the same as in the first cycle: $130. ($100 for scholarships and $30 to WYDOT)
Beginning October 5, 2016, an online system is available for new orders of the 2017 series gold plates. Order and pay by logging on to here.  Anyone still wishing to purchase a new brown plate to use until 2017 will need to submit a paper application with a check for $130 to the Alumni Association, and indicate on that application that the order is for a brown plate. If you order a brown plate, you will need to get a new gold plate in 2017 which will require another $130 fee. Gold plates will be good until 2025. For more details on the renewal process and ordering new plates go to uwyo.edu/alumni. 
In November 2007, the Alumni Association began accepting applications for the University of Wyoming license plate.  The plate was approved during the 2007 legislative session – the result of much advocacy work by UWAA supporters.  The brown and gold plate issue was approved through 2016. 
All UW supporters are eligible to receive the UW plate – not just alumni.  A one-time fee of $130 is required with the plate application.  Of this fee, $100 is deposited into an account at UW that is restricted for student scholarships and programming expenditures.  Not only do the plates look great on vehicles, but they are a great way to support UW students! Unfortunately, the $130 plate fee is not tax deductible.
The results of this program are truly outstanding.  5,000+ plates have been issued throughout the state and over $700,000 has been generated for student scholarships and programming!  Plates are available for passenger vehicles and motorcycles registered in Wyoming.  Feel free to contact the Alumni Association if you have questions about your vehicle's eligibility for the UW plate or the availability of certain plate numbers.
Get your UW plate today!  Click here to download a UW License Plate application.
2015- 2016 License Plate Scholarship Recipient
Weston Fox from Antioch, Illinois
Dear License Plate Funded Scholarship Committee,
            I would like to take this opportunity to thank you for selecting me to receive a scholarship from the UW Alumni Association.  Your contribution and support for my future education at the University of Wyoming is greatly appreciated. When given the opportunity to attend college in the Rockies and become a Wyoming Cowboy, I could not resist.  I am very excited to move from Illinois to Wyoming this fall.
            I plan to obtain a bachelor's degree in civil engineering and become a professional engineer.  In attending the University of Wyoming, I will put my boots on and pursue my engineering degree with cowboy ethics: honesty, confidence, and hard work. Thank you for awarding me this scholarship!
Sincerely,
Weston Fox