University of Wyoming Alumni Association
License Plate Program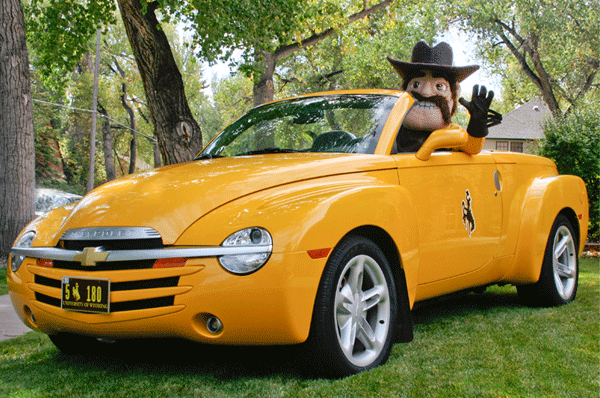 UW License Plate Program
In November 2007, the Alumni Association began accepting applications for the University of Wyoming license plate.  The plate was approved during the 2007 legislative session – the result of much advocacy work by UWAA supporters.  The brown and gold plate issue was approved through 2016. 
 All UW supporters are eligible to receive the UW plate – not just alumni.  A one-time fee (through 2016) of $130 is required with the plate application.  Of this fee, $100 is deposited into an account at UW that is restricted for student scholarships and programming expenditures.  Not only do the brown and gold plates look great on vehicles, but they are a great way to support UW students! Unfortunately, the $130 plate fee is not tax deductible.
 The results of this program are truly outstanding.  5,000+ plates have been issued throughout the state and over $500,000 has been generated for student scholarships and programming!  Plates are available for passenger vehicles and motorcycles registered in Wyoming.  Feel free to contact the Alumni Association if you have questions about your vehicle's eligibility for the UW plate or the availability of certain plate numbers.
2012-2013 License Plate Scholarship Recipient
Joesie Bowdish from Laramie
Alumni Association Scholarship Committee,
  I was very excited to see that this scholarship was awarded to me and not enough "thank you's" could express my appreciation. Growing-up in a single-parent family has really shown me the appreciation for opportunities such as this one, and I hope that one day I will be given the opportunity to help others in a similar way that you have helped me. I plan to peruse a career in the field of pharmacy, which is very costly.  The money that you have provided me with  will help support me immensely.  Without scholarship contributors like you, there would be many students such as myself unable to pursue the career that they have dreamed of.
5,000 Plate Issued to Brent Rasmussen of Cowley, WY
Get your UW plate today!  Click here to download a UW License Plate application.