---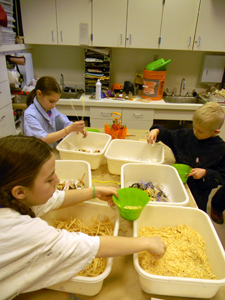 Who do we talk to schedule a class or sign up for a class?

For most classes contact our Curator of Education, Katie Christensen, 307-766-3496. To work with collections materials contact our Chief Curator, Nicole Crawford, 307-766-6529.
How do I find out about your current class offerings and programs?

Click here
Is there a fee for sending my student to one of the museum's classes?
Some classes such summer camps are fee based, ranging in price from $25 to $60 per student.  We also offer free programs throughout the year. Click here to view the latest program flyer.
Are there scholarships available? How do I obtain one?

Scholarships are available. Contact our Education staff for more information on how to apply.
Can I stay with my student?

Parents of young children are encouraged to stay. As children grow and mature, they usually do just fine on their own. If you have special needs or concerns, contact our museumed@uwyo.edu
My students are in different age groups, but I would like them to be in the same class. Is that possible?

We do try to accommodate families and their needs. Contact museumed@uwyo.edu to discuss your particular situation.
My student is 5 years old, and your class cut off is 6 years. But my student is very mature. Can they come to the class? 
Please keep in mind that many of our programs integrate creative writing and critical thinking activities that are appropriate to the age levels suggested for the program. Contact museumed@uwyo.edu to discuss your needs.
Do you provide programs for community groups, such girl scouts, boys and girls clubs, senior centers, home school associations, civic groups?

We regularly provide programming for all types of community groups. Contact museumed@uwyo.edu to schedule your group. Whenever possible, please contact us at least two-four weeks in advance to ensure that your group can be scheduled. 
We'd like to book a program or presentation. What can we expect?
We work with each group individually, and will tailor the experience to your needs. Everything begins with the artwork on exhibit. We will view the artwork, engage in discussions, and if time permits, go into the studio to create new artwork based on the art observed, ideas explored and conversations we have had in the galleries. We recommend at least 45 minutes for a tour, and an additional 45 minutes for a studio activity.
Does your programming support Wyoming's Education Standards?
Our education programming is grounded in Wyoming's Education Standards. If you wish to address particular classroom goals or standards, please tell us when you schedule your visit. We relish planning with teachers to meet their needs, including pre and post visit activities.