Dickie Landry, Composer. Saxophonist. Photographer. Artist.
August 22 – December 19, 2015
Friends, Colorado, Chicago, and East Galleries
---
Dickie Landry, Composer. Saxophonist. Photographer. Artist. begins with Landry's early work, made in New York City during the 1970s. It was a time of a burgeoning Avant-garde scene as artists, musicians, composers, dancers, and performance artists rebelled against the accepted traditions and sought new ways of creative expression. The antecedents of the late 20th century developments in Minimalism, Performance Art, Conceptual Art, and Video came out of what was happening in lower Manhattan at this time.
Landry garnered attention early in his New York days with his first exhibition and performance at Leo Castelli Gallery. He was exploring randomness, harmony, and repetition in photography and videotape. In his music, he was experimenting with improvisation, minimalism, and process which resulted in his pioneering use of quadrophonic delay, using the original sound with time delayed repeats, which enabled his solo work to become a quintet.
Landry's creative pursuits gave him a unique relationship to the new art of the time, both as participant and documenter. He was a member of the Philip Glass Ensemble, studio assistant to Richard Serra, participant in Keith Sonnier's studio experiments, performed with Steve Reich, and performed in Robert Wilson and Philip Glass' opera Einstein on the Beach, among many others. All along, he was documenting the artistic experimentations he experienced, creating what would be the single largest photographic collection of the period from an insider's viewpoint.
Dickie Landry, Composer. Saxophonist. Photographer. Artist. is presented in three part: Early Work, Photography, and Paintings. A companion exhibition, Dickie Landry: Explorations in Axonometric Projection, on view in the Arts Association, Jackson Hole Centre for the Arts, October 9 through November 11, 2015, explores more fully Landry's works on paper and paintings. All works on are loan from the artist unless otherwise noted. The exhibitions were curated by Susan Moldenhauer, Director & Chief Curator, University of Wyoming Art Museum.
Funded in part by an anonymous donor, Edelweiss Funds, Rocky Mountain Power Foundation, University of Wyoming Art Museum Gala Funds, Wyoming Arts Council through the National Endowment for the Arts and the Wyoming State Legislature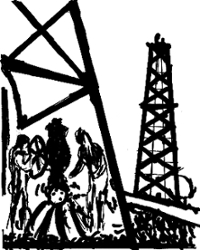 ---
Artist and musician Richard "Dickie" Landry discusses his retrospective exhibition on view at the University of Wyoming Art Museum August 22 - December 19, 2015.
---
Images:
Left: Dickie Landry (American, b. 1938), Shifted, 2001, oil and acrylic on canvas, 52 x 72 inches, lent by the artist
Right: Dickie Landry (American, b. 1938), Vellum Drawing, 1971, color pencil on paper, vellum, 30 x 42-1/2 inches, lent by the artist