Studying Marketing in the UK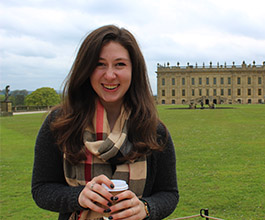 As Emily Calzolari looks back on her experience studying abroad, she smiles and exclaims that "my time in London has not only positively shaped my undergraduate experience, but it changed my life!" Emily is a senior majoring in accounting and minoring in finance within the College of Business. She is actively involved in student organizations and is a career peer within the Johnson Career Center. She will be graduating early, in three and a half years, even after studying abroad. Emily is setting the bar high for other students and challenges her peers to make the most of their experience in the College of Business.
One of the key elements that attracted Emily to attending UW in the first place is the exceptional support for study abroad programming, as she knew she wanted to have an international experience under her belt before she graduated from college. She accomplished that feat by attending the University of Hull in England during the Spring Semester of her sophomore year. It took some planning and coordination though. She recalls spending many hours researching different opportunities, talking to her professors, visiting the study abroad office and coordinating with the College of Business advising office; but she is quick to say that it was worth every second spent preparing.
While in Europe, Emily took the opportunity to get out of her comfort zone. She spent time with exchange students from Portugal, Germany, Italy, Spain, France, and many other countries. She traveled across Europe as far as Italy and Croatia and even headed north to visit Iceland. Despite challenges at times in getting classmates from different backgrounds to plan trips together, Emily enjoyed learning about and being immersed in such a variety of cultures. The learning in the classroom also helped her understand the way that other countries think about business disciplines like accounting information systems and decision sciences.
So what did four and a half months overseas do for Emily? In her opinion, it's at the top of her resume. It's the first thing that employers ask her about when she has interviewed for internships and jobs. And it made her a better student. As an accounting and finance student, Emily chose to attend school within the United Kingdom during the development and announcement of Brexit. The withdrawal of the United Kingdom from the European Union would have massive implications on the way that the British Pound would be evaluated. She even used Brexit as an opportunity to spend time in Europe at a discounted rate while the Pound's value dipped. She must have learned something in her finance classes!
Between her savvy finance skills and a generous scholarship from the Dick and Lynne Cheney study abroad fund, Emily was actually able to attend school in London for less than what a normal semester costs in Laramie – something she is incredibly thankful for. Her thanks extends to the professors who encouraged her to take the chance, wrote her letters of recommendation for scholarships and the admissions process, and for the support of the College of Business Academic Advising Office for working with her tirelessly to ensure that she could stay on track for graduation.
Her biggest piece of advice for younger students is to get out and explore the world, but to do their homework first. Understanding which courses from different universities will help count towards certain majors at UW was an important thing for Emily to consider. In fact, ensuring that the school she attended overseas was AACSB certified was absolutely crucial in her mind. Emily joined the University of Wyoming having never heard of the University of Hull, but she will graduate from UW with many more fond memories because of her time in London.
Emily will be graduating in December of 2018. She intends to attain her Masters in Accounting on the East Coast and specialize in Valuation and Assurance. She feels prepared to see challenges and opportunities on a global scale now and the College of Business has faith that Emily will become an immediate contributor to whichever organization she ends up with. Oh, and she already has her next trip abroad planned, she will be headed to Portugal for Christmas and France for New Years. Good luck, Emily!