Message from the Dean: Together Towards Tomorrow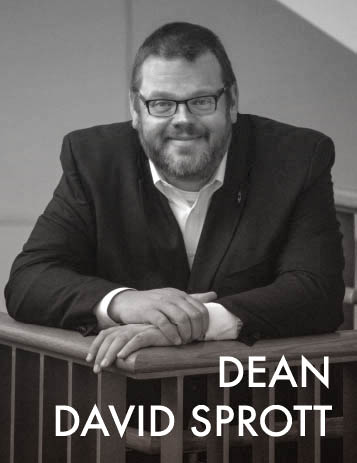 With the end of the spring semester and the beginning of summer, I'd like to take a moment and appreciate how the College has worked even longer and harder to accomplish all that we set out to do at the beginning of the year and then some.
The unexpected arrival of the novel coronavirus (COVID-19) and its deep impact on our UW community has all of us adjusting to new realities. Doing so has not been without challenges, but I have deeply appreciated our students, faculty and staff's willingness to adapt with each new change that has come our way.
Our year began with ambitious agenda items, such as delivering business programs that leverage our strengths, deliver relevant and current content, and prepare graduates to hit the ground running.  Our commitment to these and other goals has not changed as we have moved to a virtual learning environment this past semester.
The achievements of our faculty, staff, and students have continually demonstrated the importance and versatility of the knowledge we create and impart. I find myself ending the year inspired and energized, and I hope you will be too as you read about what we have accomplished together in Wyoming's College of Business.
In this issue, you will read about how the College continues to implement our strategic planning goals in delivering a highly valued student experience with the introduction of our College of Business Scholars Program, which will offer a new dimension for high achieving business students.
Find out more about how economists from our Department of Economics have been researching the potential benefits of social distancing in saving lives and how that outweighs the projected damage to the economy. The team's research has received national attention.
Join us in welcoming the inaugural online undergraduate accounting degree completion program class this spring semester. For students who want to take courses on a part-time basis, the program is entirely self-paced to allow the option of taking a lighter course load. The online format and experiential learning environment are ideal for working professionals looking to shape their degrees to meet career aspirations. The new online degree completion program supports our goal to expand statewide access to our business program offerings.
And as we continue to strive in expanding online programs, I invite you to learn more about Candace Ryder, the College's first-ever online instructional designer with the college's online learning team. Candace Ryder joins the College of Business at a critical time when our online programming has never been more important and will enable the College to play a leading role in the future of growing the quality and reach of our online offerings.
Additionally, this year marked the 20th anniversary of the John P. Ellbogen $50K Entrepreneurship Competition, the university-wide business plan competition. Experiences like these are a true highlight of the critical analysis and communication competencies our students learn in the College, and will hopefully lead to businesses that can help shape Wyoming's future.
As the summer begins in earnest, I want to thank you for a successful academic year, and I wish you an enjoyable and productive summer.

Go Pokes!

Sincerely,

Dave Sprott, PhD
Dean and Professor
College of Business
University of Wyoming 
---