A Winning Strategy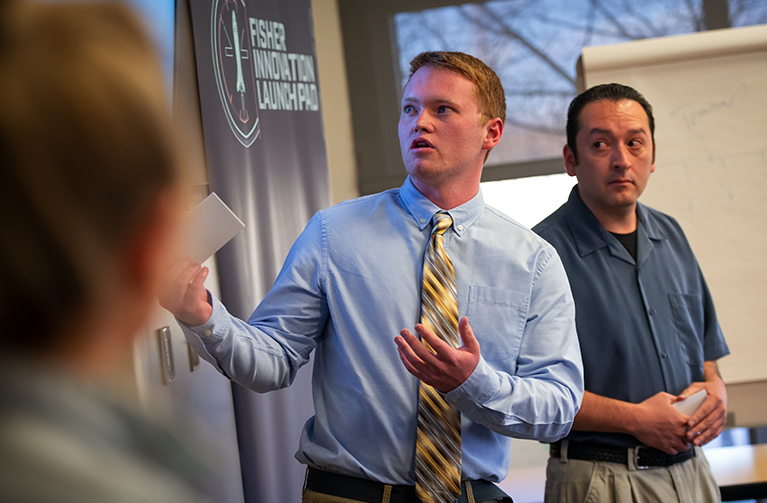 Awards Announced for Virtual UW John P. Ellbogen $50K Entrepreneurship Competition
Four finalists shared a total of $65,000 in prize money after being selected as winners of the University of Wyoming College of Business 2020 John P. Ellbogen $50K Entrepreneurship Competition, which took place virtually May 8-9.
The grand prize winner, Resono Pressure Systems, was awarded $30,000. Team members are Pourya Nikoueeyan, a doctoral student from Laramie, and Jonathan Naughton, a professor of mechanical engineering at UW. The company was founded to commercialize an innovative unsteady pressure measurement system for advanced aerospace and wind energy applications.  
"For the past 20 years, this entrepreneurship competition has represented one of the most prestigious venues for UW students to get a jump-start on living out their entrepreneurial dreams," says Patrick Kreiser, UW Rile Endowed Chair of Entrepreneurship and Leadership. "Throughout this year's competition, the dedication and preparation of all seven finalist teams were readily apparent to the judges and audience. In the midst of the COVID crisis, Wyomingites can take faith in the resilience and passion that were shown by these student entrepreneurs. These businesses aren't just based upon good ideas -- these are socially and economically responsible businesses that are dedicated to bringing innovative and unique business models to the Wyoming economy."
A revamped awarding process allowed the five judges to select variable dollar amounts that would help advance a team's business ideas, instead of there being a set dollar amount for first-, second- and third-place finishers. Given the extremely high quality of this year's finalists, organizers say, an additional $15,000 was made available by the John P. Ellbogen Foundation.
Other winners were:
-- CellDrop was awarded $20,000. Team members are Benjamin Noren, a doctoral candidate in chemical engineering with a graduate minor in gender and women's studies, from Ironwood, Mich., and John Oakey, a professor of chemical engineering at UW. CellDrop uses a patented cell delivery process to quickly and permanently regenerate tissue by encasing mesenchymal stem cells in microscopic hydrogel droplets (cells in tiny gel marbles).
-- Landseer was awarded $10,000. Team members are Kurt Stahlfeld, a doctoral student in mechanical engineering, from Pittsburgh, Pa., and Erica Belmont, a UW assistant professor of mechanical engineering. Landseer is producing next-generation lithium battery anodes, with the potential to double the energy density of current lithium batteries, via a novel production process with unique cost and environmental advantages.
-- NexRel was awarded $5,000. Team members are Fritz Ogden, a senior majoring in chemical engineering; Steve Bagley, financial controller and data scientist for NexRel; and Chas Ogden, a mechanical engineer and technical developer for NexRel, all from Laramie. NexRel aims to revolutionize how heavy industry uses current remote sensing technologies and big data. The Nexus Connect platform saves not only time and money, but also keeps maintainers and operators safe by preventing catastrophic failures before they occur. 
Several other noteworthy awards were made possible through the support of donors to entrepreneurship at UW:
-- Top Submission, Community College Team ($1,000), EvolvED. Team members are Brett Ralston, a graduate student in physiology, from Encampment; Chris Larsen, a Laramie County Community College student majoring in computer science, from Jackson Hole; and Samuel Riggs, a Laramie County Community College senior majoring in accounting, from Laramie.
-- Top Submission, Female Entrepreneur ($1,000), Step-Up Strategies. Team members are Ashley Hyche, a senior majoring in agriculture communications, from Wheatland; and Ty Shockley, an accountant in Billings, Mont., and a UW graduate from Wheatland.
-- Top Submission, Social Enterprise ($1,000), Build Mothers, Build the World. Team members are Kyrie Blaney, a senior majoring in marketing, from Evanston; Dilnoza Khasilova, a graduate student in literacy education, from Uzbekistan; Abby Lozano, a coordinator in the UW International Students and Scholars office; and Carole Boughton, business development and public relations director at the Wyoming Montana Safety Council.
-- Top Submission, Best Ability to Positively Impact Wyoming ($1,000), Build Mothers, Build the World.
-- People's Choice Award ($500), CellDrop.
-- Daniels Fund Ethics Initiative Award, Build Mothers, Build the World.
-- Special Commitment by the John P. Ellbogen Foundation to Build Mothers, Build the World, as a nonprofit organization.
Throughout the virtual competition, several past participants and stakeholders celebrated the 20th anniversary of the event by sharing their competition experiences with the audience while also discussing what they are doing now. A recurring theme through these interviews with Leadership Wyoming Executive Director Mandy Fabel was that successful businesses born through the competition have been supported not only through monetary funding earned through this extracurricular event, but also through expanded networking opportunities with Wyoming business people and other mentors.
In order to support further mentoring and business development opportunities, all seven of this year's finalists have been offered rent-free space in the university's business incubator, the Wyoming Technology Business Center.
For the first time this year, a course was offered during the spring semester that helped the finalist student teams prepare for the competition. This course covered such topics as value proposition, customer discovery, market research and financial analysis, while also offering guidance about how to prepare comprehensive written reports as well as impactful presentations.
"My father was always a strong believer in the power of education to transform lives," says Mary Ellbogen Garland, president and chair of the John P. Ellbogen Foundation. "Offering a course to support this year's finalist student teams achieved an important educational outcome: the integration of theory and concepts with real-world practice. The high quality of this year's finalists, which is evidenced by the additional financial support offered to these teams, shows the importance of providing meaningful entrepreneurship education for our students."
Kreiser and all of those involved in administering the John P. Ellbogen $50K Entrepreneurship Competition also express appreciation to these other financial backers, whose support for entrepreneurship education has made these types of experiential learning activities possible for Wyoming college students: First Interstate Bank Foundation, Pat and Kathy Rile, the McDaniel family, the Micale Foundation, Russ Mortenson and the Tice family.
For more information about all of this year's teams and about the John P. Ellbogen $50K Entrepreneurship Competition, go to www.uwyo.edu/business/entrepreneurship.
---