Ph.D. Program
UW Chemistry
UW Chemistry Doctorate Degree
Now accepting applications for Fall 2022! 
Domestic Applicants:

GPA: 3.00
GRE*: 297

Review of application starts

January 18 

Apply!

International Applicants:

GPA: 3.00
GRE*: 297


TOEFL: 80

IELTS: 6.5

Review of application starts

January 18 

Apply!
Applications should include uploads of:
-Resume or CV
-Undergraduate transcript
-A Personal Statement that says why you want to pursue a PhD, why Wyoming is a good fit for you, and what experiences you've previously had completing long-term projects
-GRE scores (*We encourage you to submit GRE scores if you have already taken the exam.  However, if you have been unable to complete the GRE test due to extenuating circumstances, we will still be happy to consider your application to our program.  Submitting an application without a GRE score will not negatively impact your application.)
-TOEFL for non-native English speakers. Duolingo: Until further notice, due to COVID-19 related postponements/cancellations of TOEFL/IELTS exams, we will be accepting Duolingo scores or 110 or higher as proof of English proficiency.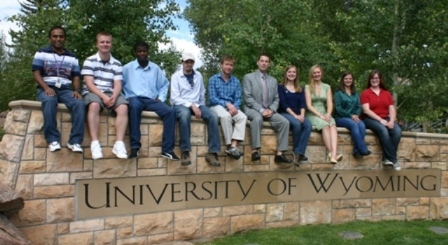 The University of Wyoming's Chemistry Department offers graduate degrees for students who desire to expand their knowledge beyond the 4 year Bachelor level.  Our Ph.D. program is a research degree in advanced chemistry that prepares our students for careers in academia or as leaders in industry.  A Master's degree is not required; students may enter directly into the Ph.D. program.
We also offer training on out-of-the-classroom skills, such as presentation skills, teaching skills and professional development.
Graduate Coursework and Requirements
A student must take one 3 hour graduate course (5000 and above) in each of the five areas (analytical, biological, inorganic, organic, and physical), excluding special topics, tool courses 5130, 5320, 5760, and research courses.
A student may also take 12 credits of any combination of CHEM 5190, 5290, 5390, 5590, or 5790.
In the area selected as a major, the student will take the following as a minimum: 
          1.) Analytical - 5250 plus 9 hours of graduate level analytical chemistry courses;
          2.) Biological - any three graduate level biological chemistry courses;
          3.) Inorganic - 12 hours of graduate level inorganic chemistry courses;
          4.) Organic - 5320, 5330, and 5340;
          5.) Physical - any three graduate level physical chemistry courses.
Students must obtain satisfactory performance on a series of written major field cumulative examinations, including special topics.
Students must obtain satisfactory performance on a preliminary examination, part written and part oral.
Students must present a seminar based on the dissertation research. Students must also obtain one additional credit of 5000 by presenting a divisional or departmental seminar or an oral presentation at a regional or national research meeting. In addition, students must make one presentation at the annual University of Wyoming Graduate School Symposium.
Questions?
Contact Graduate Program at chemistry@uwyo.edu, 307-766-4363 or Physical Sciences Building Rm 403.