ASL is a complete and complex language that employs signs made by moving the hands combined with facial expressions and postures of the body.  ASL is the language of the Deaf community in the United States and Canada. UW students can learn ASL through the courses offered in the Division of Communication Disorders. ASL may be a useful modality when working with young children with language or learning difficulties, or anyone who has trouble communicating orally.  ASL will also be useful to any professional working in educational or healthcare settings.
Deaf History.
The exact beginnings of ASL are not clear, but some suggest that it arose more than 200 years ago from intermixing of "local signs" and French Sign Language.  Dr. Thomas Hopkins Gallaudet was a major figure in ASL.  In 1814, Gallaudet met his neighbor's daughter, Alice Cogswell, who was Deaf. Gallaudet noticed that Alice was very smart and he became interested in how he could help Deaf children learn. Gallaudet met a French teacher who was Deaf named Laurent Clerc, and eventually Gallaudet, Clerc, and Dr. Mason Cogswell, Alice's father, established the first School for the Deaf in Hartford, Connecticut in 1817.  Today it is estimated that as many as 500,000 people in the United States communicate using ASL.
ASL at University of Wyoming.
The Division of Communication Disorders first offered formal classes in American Sign Language in 1979. Three ASL courses are offered: SPPA 2110 ASL 1, SPPA 2120 ASL 2, and SPPA 4130 Advanced ASL. ASL 1 & 2 are required for the Bachelor of Science in Speech, Language, and Hearing Science. ASL can also be taken as a foreign language for other degree plans, and ASL courses count towards the Disability Studies minor.  For students pursuing degrees in speech-language pathology and audiology, learning ASL ties to accreditation standards that require that these professionals be familiar with multi-modal communication. An additional advantage to learning a new language, like ASL, is that language shapes our thought, cognition, and worldview. Students frequently experience seeing the world through new eyes when they learn ASL. ASL will provide any student with new experiences and perspectives, and will provide insight to Deaf culture and communities.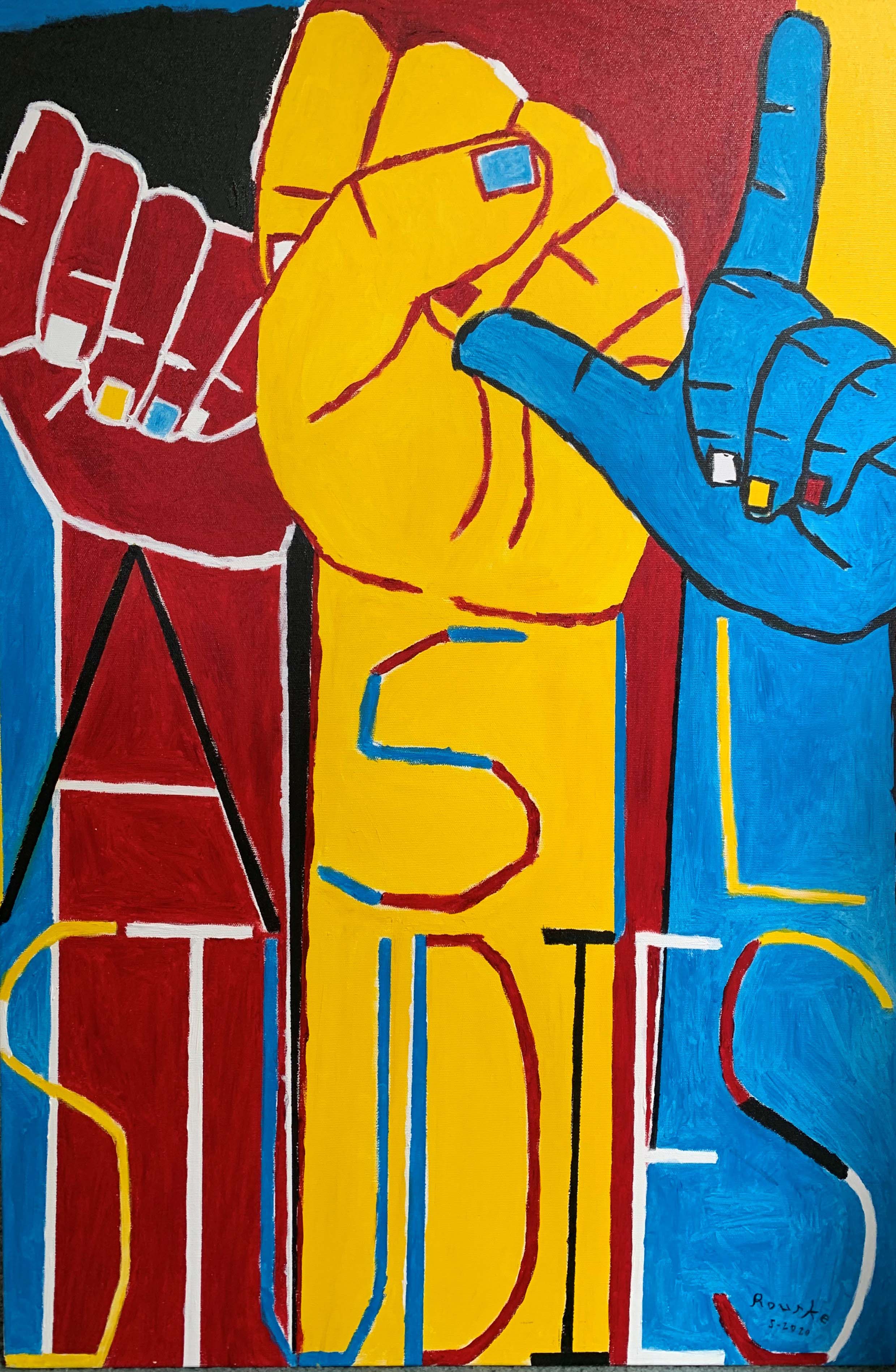 American Sign Language Studies Certificate
The American Sign Language (ASL) Studies certificate provides a basic or beginning understanding of ASL and an introduction to Deaf sociocultural issues. The ASL Studies certificate may be helpful to anyone in the health and education fields in learning to communicate with and understand individuals who are Deaf. The certificate is a nominal recognition for students who wish to pursue more education in the fields of speech-language pathology, sign language interpreter, teacher of the deaf, preschool and K-12 education, audiology, nursing, counseling and other areas. The ASL Studies Certificate is not designed or adequate to meet educational requirements for any specific professional license or certification. The ASL Studies certificate from UW is a nominal recognition of basic or beginning ASL skills and Deaf culture. It does not prepare or entitle a student or recipient for any certification or licensure from any state or national associations, agencies or governmental bodies.
Learn More About The ASL Certificate
ASL Faculty.
Esther Hartsky, Assistant Lecturer ehartsky@uwyo.edu
ASL Courses from other Universities/Colleges.
If a student has taken an ASL course from another college or university program, it may transfer.  Students should turn in official transcripts to the registrar, additional action may be required. If automatic transfer of ASL credit does not occur, students should contact the registrar, and then contact the ASL instructor. A copy of the course description and/or syllabus may be required. Credit is not available for high school courses, but these students are strongly encouraged to continue their study of ASL.
Language Proficiency Requirements for direct placement in ASL 2.
There are ASL proficiency requirements for direct placement into ASL 2 for students who have not taken ASL 1 at the University of Wyoming or a recognized community college/university. 
Students with a strong background in ASL but no college credit in ASL can take the ASL Proficiency Interview Exam.  Students who perform well on the exam may be directly placed (with an instructor override) into ASL 2. This exam is for placement purposes only; no college credit is assigned or available for the ASL Proficiency Interview Exam.
ASL Proficiency Interview Exam process: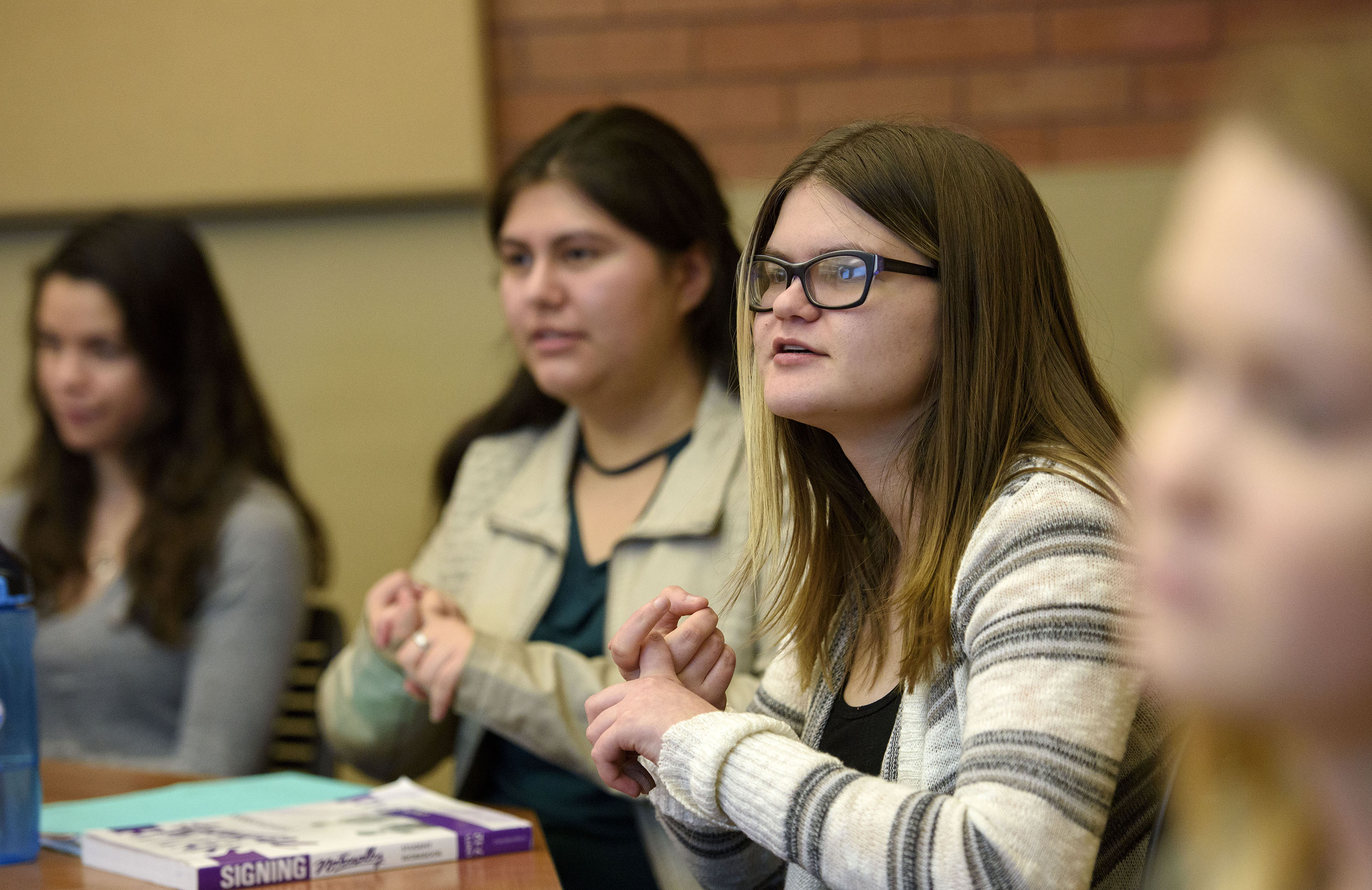 Student contacts ASL faculty via email to request to take the proficiency exam for direct placement (override) into ASL 2. The student should explain what background, courses, and exposure he/she has had with ASL.
If ASL faculty approves the request, students will need to schedule the exam with the instructor.
After the exam, ASL faculty will discuss the results and decisions about the student's request for direct placement.
When direct placement is granted, ASL instructors will request the override with the Communication Disorders main office staff. Space availability in classes is not guaranteed.
ASL Teaching Assistants. 
Students who wish to be an undergraduate teaching assistant must:
Be recommended for this role by a UW ASL instructor.
Earned an A in SPPA 2110 ASL 1, SPPA 2120 ASL 2, and SPPA 4130 Advanced ASL.
Return to Communication Disorders home page