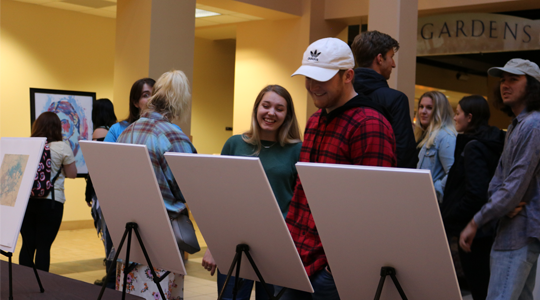 The Fine Arts & Lectures Committee is responsible for providing the University of Wyoming and surrounding community with free cultural, artistic, educational programs and thought provoking lectures. The purpose of this committee is to enhance and cultivate diversity and to provide educational and cultural opportunities that are unique to the campus and expand the knowledge of participants.
How to Join
Joining 7220 Entertainment is super easy! Just attend the Fine Arts & Lectures Committee meeting on Tuesdays at 5:00 p.m. in Union Room 012. We'll have you fill out a small questionnaire and go over a few of our expectations and incentives and that's it. 
Interested in joining? Complete our questionnaire and we'll be in touch!
---
Fine Arts & Lectures FAQ:
What kind of events do you do?
We host poetry slams, art shows, Cowboy Con, and more.
Is there an admission charge?
Nope, all of our events are free!
What if I need accommodations for attending an event?
Let us know and we'll work with you. Please contact us at 307-766-6340 or at fal@uwyo.edu.
What's the best way to find out what events are going on?
Hit us up on UW Connect or our social media outlets: Facebook, Twitter, Instagram, Snapchat. Pro-tip: subscribe to our events on Facebook.
I'm in an RSO or a department on campus. How do I partner with 7220 Entertainment?
Complete our co-sponsorship/funding request form.