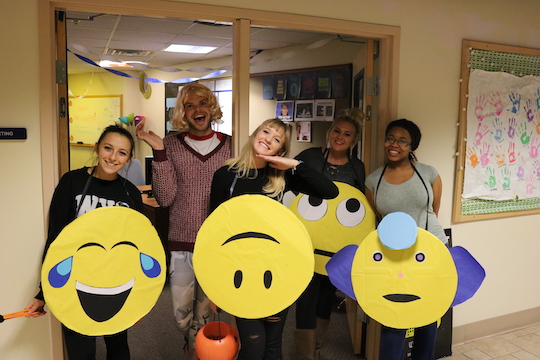 The CSIL Marketing Office is a hub for communicating information from the organizations within CSIL to students, faculty, staff, and the Laramie community. Our dynamic team of graphic designers and marketing gurus specialize in event based marketing and design, social media, and outreach. We contribute to multiple offices within the Center for Student Involvement & Leadership. You can depend on us to tell you where the action is happening on campus! 
---
Services
Union Digital Signs


The CSIL Marketing Office is able to upload digital signs to the 4 small TV's around the Union. This service is available for campus offices, campus organizaitons, and RSOs. 
Union Digital Signage Guidelines:
The final image size

 

must be 1228 (width) pixels x 1031 (height) pixels OR 17.06 inches (width) x 14.32 inches (height).
No text should be smaller than 25 pt. size.
Only use legible fonts (for example: Helvetica or American Typewriter)
Do not use more than three fonts.
Images, logos, etc. should not be stretched or pixelated.
Include specific info about your event such as

 

date, time, location, your RSO's name/logo, contact info, etc.
Files submitted

 

must be in .jpg or .png

 

formats.
The file resolution should not be less than 72 dpi.
If you have questions about the size specifications, please contact the CSIL Marketing Office at csilmktg@uwyo.edu.
Graphic Design Assistance
The CSIL Marketing Office is happy to offer graphic design assistance to RSOs for the upcoming year. Please be aware of the following guidelines:
Requests must be made at least (6) weeks in advance. No exceptions will be made.
Project requests will be accepted on a first come, first serve basis for all RSOs, so reserve your space early!

Each RSO will be limited to one (1) design project per academic year. Design project options include:
Poster
Table Tent
Handbill
2 ft. x 3 ft. poster
Digital Sign
Newspaper Ad
T-Shirt Design
Special approval will be considered for projects not on the list above.
Each RSO is responsible for all printing and advertisement costs. The CSIL Marketing Office is responsible for the design work only.
Be prepared to answer the following questions when contacting the CSIL Marketing Office for graphic design assistance:

What is this project for? Projects can be for general marketing of your organization, an upcoming event, etc.
Do you have examples of a style you would like to see be incorporated into your project?
Do you have high resolution logos  for RSO's and any other organization you are partnering with?
To request this service, please contact csilmktg@uwyo.edu 
---
Our Work