College of Arts & Sciences Department of English
1000 E. University Ave.
Department 3353
Laramie, WY 82071
Phone: 307-766-6452
Fax: 307-766-3189
Email:
EnglishDept@uwyo.edu
Peter Parolin
Associate Professor and Department Chair 
Ph.D., University of PennsylvaniaM.A., University of PennsylvaniaB.A., University of British Columbia 
parolin@uwyo.edu
Hoyt Hall 145/246: 307-766-6497 (Chair's Office)
Teaching Awards:
A&S Top Ten Teacher (2007)
Excellence in Teaching Freshman Honors Courses (2006)
Excellence in Teaching Upper Division Honors Courses (2004)
A&S Top Ten Teacher (2004)
Excellence in Teaching Lower Division Honors Courses (2003)
A&S Top Ten Teacher (2003)
Beatrice Gallatin Beuf Golden Apple Award for Lower Division Teaching, University of Wyoming (2002)
Extraordinary Merit Award for Advising (2001)
Extraordinary Merit Award for Teaching (2000)
Honors & Distinctions:
Dean's Award for Distinguished Graduate Student Teaching, University of Pennsylvania (1996)
Publications:
Women Players in Early Modern England 1500-1660: Beyond the "All-Male" Stage. coedited with Pamela Allen Brown.  Published by Ashgate Press, 2005.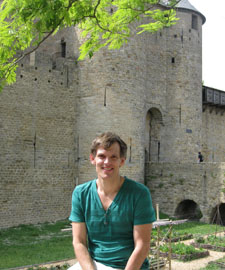 Peter Parolin in Carcassonne, France, during the "Shakespeare and Myth" conference, held in Montpellier, France, in June 2013