Welcome from the Department Head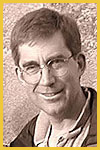 Welcome to the Department of Geology & Geophysics at the University of Wyoming! These are exciting times for the Department, with many new faculty and new collaborative programs on campus such as the School of Energy Resources, the Roy J. Shelmon Center for Quaternary Studies and the Interdisciplinary Program in Ecology. Wyoming is blessed with spectacular scenery and a wealth of energy and natural resources providing a natural setting for geologic study. While continuing our traditional interest in Rocky Mountain geology, we are also a worldwide research organization, with active projects across the globe (see map below). We have grown to 26 faculty and researchers, covering a broad spectrum of subdisciplines, utilizing many newly acquired analytical capabilities.
The breadth of research opportunities, access to cutting edge technology, close interactions between students and faculty, and easy accessibility to the mountainous landscapes of the Rockies, all make our Department an ideal setting for undergraduate and graduate education. Join us in our pursuit of excellence!
Carrick Eggleston
Department Head and Professor
UW Geology and Geophysics