Last spring, we welcomed Laramie-based artist, June Glasson, as the first-ever Ruckelshaus Institute Communication Fellow. In her time as Communication Fellow, June designed event posters, provided illustrations for research briefs and Western Confluence magazine, helped redesign communication pieces, and provided the illustrated content for an animated video in support of the Wyoming Open Spaces Iniative report, "Wyoming Conservation Easements," among other projects. Here, we ask June about her experience in the program and her hopes for the future of the fellowship.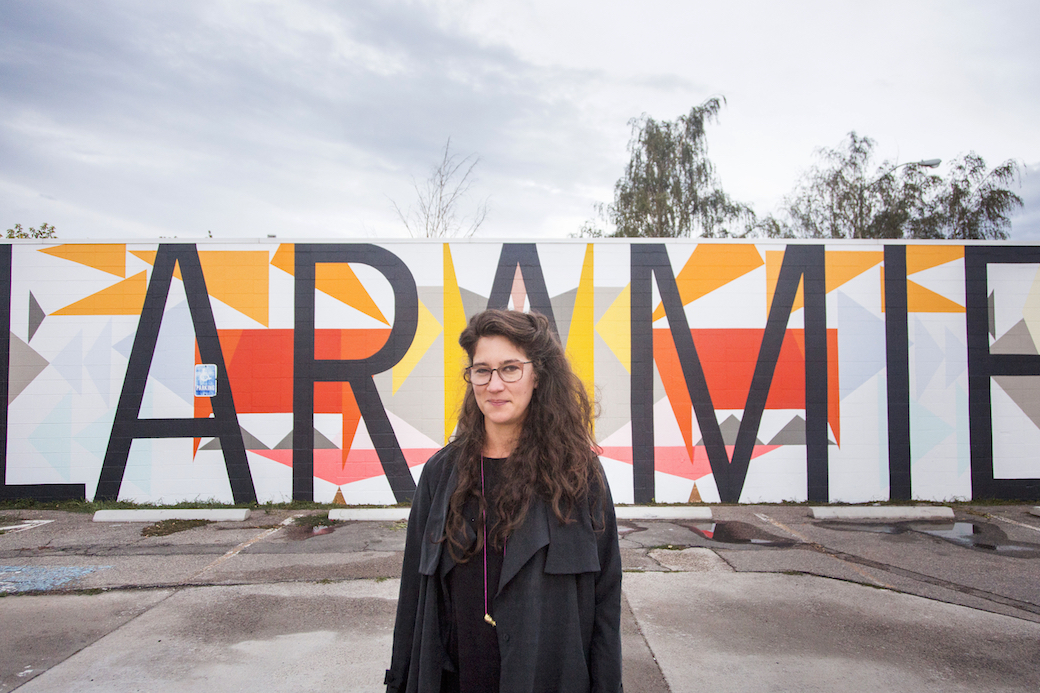 June Glasson
Q: You're the first-ever Ruckelshaus Institute Communication Fellow. What compelled you to apply?
June Glasson (JG):With a lot of my art, I find myself drawn to collaborating and partnering with people. I think as an artist, I have a certain set of skills — whether it's my drawing, painting, illustration skills, or my larger design aesthetic. In the past couple of years, I've found myself interested in partnering and collaborating. And for me, it allows me to take what I do and push it a little bit further. So for instance, in the fellowship, I was excited to learn a little bit more — being in this community and living in Wyoming, I don't necessarily interact with a lot of scientists, or researchers, or even the university. So kind of being in a more academic environment. But I think the fact of what the Haub School does on the science side and being focused on our relationship to the outdoors. So, being able to apply what I do to some of your research and the projects you're working on. And just doing something different. So, the novelty of me doing a different kind of work than what I do as a fine artist. But what's great about that is I think I got more and more excited about the idea of design — which is taking aesthetics and applying it to more useful products, whether it's doing a map or an animation or some kind of figure that is actually trying to put across information in a more specific way. So as an artist it makes me think about, "Well, how do I actually communicate that information in a less abstract way?" Because as artists we usually get to be very loosey goosey and you interpret it as you want. So, as an artist to be pushed to, well, "How do you actually convey this information to the viewer? How do you get them excited about it?" And so, I think collaborations can create more interesting work than necessarily what the scientist would create on their own or what the artist would create on their own. Something new is created.
It just sounded like a really interesting position. The way you guys advertised it, too. That you weren't like, "We're looking for someone who will do photoshop, and, you know, fliers, and maps. You weren't like, these are the projects you're working on. It sounded very open ended, and as an artist, that's very attractive. You know, we're interested in videographers or illustrators — we want you to bring your skills to us and see how we can work well together. So it's kind of using each other's best assets to make something even greater. 
Q: What have you enjoyed most about the fellowship?
JG: Well, it's hard to say what I've enjoyed the most. I think what I did enjoy was working on a variety of different projects. It's kind of fun to think about doing an animation, and thinking about doing a map, alongside the more traditional painting of landscapes or illustrations that I traditionally do. So I think the kind of projects like the map and the animation were really exciting because I've never done an animation before. And maps have been something I've been wanting to do. And so, those were kind of two projects that were slightly novel to me — that kind of pushed me in terms of what my own experience is. And not necessarily knowing what the process was going to look like, or even what the outcome was going to be. So, I think having both of those has been a nice balance, like — oh yeah, I know how to do this. I can totally do this with you guys. And this is what it will look like. And then kind of having a few projects where you are like, "well let's push ourselves." It's not necessarily something that the Ruckelshaus Institute has done or I have done, but we can try and see what happens. So I think having a balance of those was an enjoyable thing. So it wasn't all experimental, right? It was kind of a mix of both.  
But yeah, I think another enjoyable process is just learning about all the projects you guys are working on. So, part of it is slightly self-educational, too. Like, I didn't know about all these migrations, or public lands or private lands. So, part of it is almost like taking a little bit of a class on what you guys do at the Haub School. Because I didn't know that much before.
Q: Has your experience in the fellowship informed your practice as an artist? If so, how?
JG:Usually as an artist, when I make work in the world, I typically don't know how it's affecting my practice as I'm doing it. It's usually not until after I've started to depart that I look back and say, "oh, this is how it fits in." But I think, as I said earlier, I think it fits in with my larger practice. Like, not the individual stuff that I do in my studio on my own, but the more collaborative work where I'm interested in seeing how I can put my work into the world. So I think the fellowship really aligned well with that trajectory of mine that I'm kind of moving forward with. But I think as I also said in the previous question, there's stuff like the animations or the maps that are kind of newer projects that I haven't done before. And so, maybe I'll be doing more of that in the future. Like the mapping stuff, I think I would definitely love to think about that more.
If I were staying in Laramie, I think it's a project I would love to do for Laramie. Like in a bigger sense. Because I would love to see an awesome map made of Laramie. It may be illustrated but it also contains lots of pockets of information and stuff like that. So, I think the art of infographics is, for me, relatively new, but I feel like it's a really interesting way of thinking about conveying information. And it's less fine art. Because there is always that tension between, like, kind of creating something as just a visual that's beautiful or aesthetically pleasing. But then also wanting to convey information. So, I think the fellowship has really pushed me to think about what kind of information gets translated, and how you can translate information in a way that's… you know, it's not like we sit there and we're like, "oh, our panel of viewers are saying they understand this from it." But, just having conversations and being in a group of three people passing back and forth, being like: Well, what's working? What's not working? Is the information coming across? Is it aesthetically working?
Q: Is there anything else you want to share?
JG: I'm pretty excited to see who gets it next and what they do with it. And I could see in like 10 years, you guys having a little retrospective with this collection of amazing different artists and partnership. All the work will be really, really different. I think that will be exciting to see. I hope you guys can continue to do it and keep the funding up. Because I feel like there's a lot of great creative people in Laramie, too. So, I feel like you hopefully have a good pool of people to pull from. And it's beneficial for both you guys and artists. Because there are not a lot of ways for artists to make a living doing the creative stuff in town. So, if this is just one more way to support the creative community, then I'm like…YAY!