Contact Us
The Honors College
Guthrie House
1200 Ivinson St.
Laramie, WY 82070
Phone: 307-766-4110
Fax: 307-766-4298
Email: honors@uwyo.edu
Why SOAR?
Published September 14, 2020 - September 14, 2020
By CeeJay Berg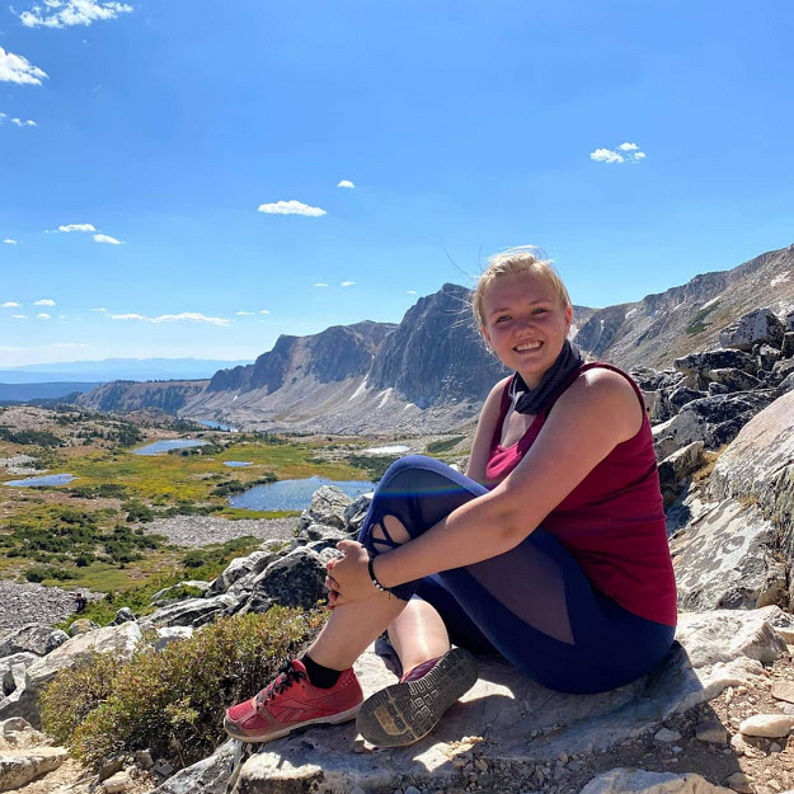 CeeJay Berg pictured on a hike of Medicine Bow, WY at the start of fall semester. CeeJay is an Honors student and SOAR Mentor here at UW majoring in Accounting and Economics.
I had just started at UW, scared as ever, away from my family for the first time in my life. I had no idea what I was doing, and I was excited about any advice I could get. My first year in the UW Honors College we were told that we were the first class that would be testing out this new platform called SOAR. The professors were new to it, the students were new to it, the mentors were new to it. We were the Guinea pigs. But in my search for advice I heard the leaders from SOAR talk about how SOAR could be an all-in-one easy to use place to keep track of everything you do while you are at UW. They emphasized that employers and grad schools could use the information you collect to tell that you are a well-rounded and experienced student. And with this being some of the very first advice I was given upon arriving in Laramie, I took it.
I remember talking to my peers in the honors college about SOAR and most of them had forgotten about it after about month into the semester, but I kept up with it. I would let people know that they should have QR Codes at their events, and explain what SOAR was. Most of my friends just thought I was a nerd, but there was something about SOAR that made me feel like it was valuable. I found out what it was when I began my first job hunt.
Some more advice I heard about being successful in college, was to study abroad, complete an internship, and participate in a research project. I studied abroad with the honors college and UW in Scotland my freshman year, so sophomore year I knew I wanted to work towards getting an internship. I reached out to the College of business career center and spent weeks perfecting my resume. I even bought a new to me suit to wear to career fairs at NU2U. But what ended up getting me the job wasn't anything I did in the weeks leading up to the career fair. It was the work I did my freshman year in SOAR.
I arrived at the BIG Job Fair, held annually in the Union. I swiped my ID to check in and then I was directed to a table nearby. Because of my hard work in SOAR, I made it to a level two and to show that I was career ready, the SOAR team had made me a custom nametag. They told all of the employers that were tabling that day to look out for the students that had these nametags.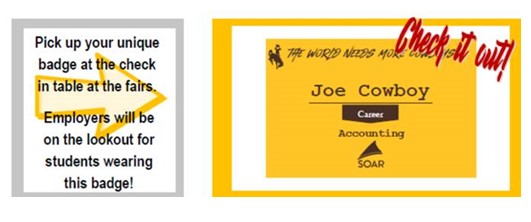 I had a list in my head of the employers I wanted to talk to, but none of them would end up being the company I worked for. A company that I had sort of dismissed at first, stopped me to ask about my nametag. I talked to the employers about how I had worked toward having a well-rounded and successful college experience by studying abroad, attending intellectually engaging events, and volunteering in the Laramie community. The employer was impressed and asked if they could see my resume. I didn't know it at the time, but the employer was so impressed, that they would offer me a summer internship, and I ended up working with them this last summer. I was so fortunate because many employers cancelled their summer internships, but thanks to SOAR, I found an employer that wanted to make sure I got the experience despite the pandemic.
If you are still wondering if SOAR is worth it or still questioning it in your head, I hope my story has helped you see why SOAR can be incredibly beneficial to your academic career. It keeps track of the things you are already doing at UW, it can help you find events and activities on campus, it can help you be a well rounded student by encouraging you to volunteer, study abroad, and research, and, take it from me, it can literally help you find your future career.
If you need help with SOAR or any of the aspects of SOAR feel free to reach out to me at cberg10@uwyo.edu.
Contact Us
The Honors College
Guthrie House
1200 Ivinson St.
Laramie, WY 82070
Phone: 307-766-4110
Fax: 307-766-4298
Email: honors@uwyo.edu