Honors Capstone
The Honors College
What is an Honors Capstone?
The University of Wyoming Honors Capstone (previously referred to as the senior thesis) is an independent or collaborative undertaking involving research, creative, or entrepreneurial work that represents the culmination of your undergraduate studies. The Honors Capstone may build on work in your major/ minor but does NOT have to be related to your major or minor. The Honors Capstone experience must be completed under the direction of a "faculty mentor" or "community mentor". The faculty mentor can be anyone on faculty at the University of Wyoming, and the community mentor must be someone with relevant expertise related to your Capstone project. Their role of a mentor is to guide your project, provide feedback on your work, and assist in your successful completion.
The Honors College has a number of talented faculty and staff to help you complete a meaningful capstone experience. These Members of the Honors Capstone Community can meet with you to help you get started on your Capstone. Honors College Capstone Co-Coordinators, Drs. Joslyn Cassady and Thomas Grant, are available to help you identify project ideas and potential mentors (and may serve as a faculty mentor on projects related to their expertise)! They may be reached at honorscapstone@uwyo.edu. Please see the Frequently Asked Questions (FAQ's) section at the bottom of this webpage for additional information.
The Honors College has identified a number of opportunities to support research, creative and innovative capstone projects. The Honors College also ​has funding to help offset costs associated with your capstone work!  You and your faculty mentor submit an application directly to the Honors College (with requests not to exceed $3000). To apply for this grant, complete the Honors College Grant Application.
Getting Started
To begin your Honors Capstone, start by exploring the resources below and thinking about your passions, interests, and professional goals. Remember that the people best able to help you conceptualize a capstone project are faculty members in those disciplines related to your project ideas or interests. It is a great idea to reach out to faculty members for ideas as you begin to consider Honors capstone topics and identify a faculty mentor. Once you have identifed a faculty mentor you must submit the Honors College Student Initiation Form.
Options for Honors Capstones
At the University of Wyoming Honors College, the Honors Capstones may take different forms depending on a student's professional goals, disciplinary background, and personal interests.  Three primary options are a research, creative or innovative/entrepreneurial project. 
A research-based project should present a hypothesis or assertion that is then tested, analyzed and evaluated according to the methods of an academic discipline or multiple disciplines. These research-based capstones investigate the previous research on a topic, and, importantly, also include your original research, insights, and contributions to the topic.
Other capstones are based in various creative and expressive modes of representation and are less dependent upon original academic research. Students with expertise in art, music, new media, theatre, dance, and creative writing often find this approach more in line with their own interests, aptitudes, and expectations within their majors.
Honors students have created paintings, composed music, written novels, made clothing, directed plays, and engaged in many other creative endeavors to fulfill the capstone requirement. Capstone projects may also involve entrepreneurship or invention or something we might not have imagined!
All creative capstone projects should include a written piece, known as a critical reflection, that accompanies the creative work. The reflection contextualizes one's creative work, discusses related research, and describes its scholarly content.
We encourage students considering the creative option to meet with the Performing Arts Liaison, Associate Dean Leigh Selting, or the Honors Capstone Co-Coordinators, to discuss further.
Students interested in pursuing an innovative/entrepreneurial project should meet with the Honors Capstone Co-Coordinators or Fred Schmechel, the Innovative/Entrepreneurial Liaison, with Impact307 to discuss ideas and approaches. You may learn more about Mr. Schmechel here: https://impact307.org/meet-the-staff/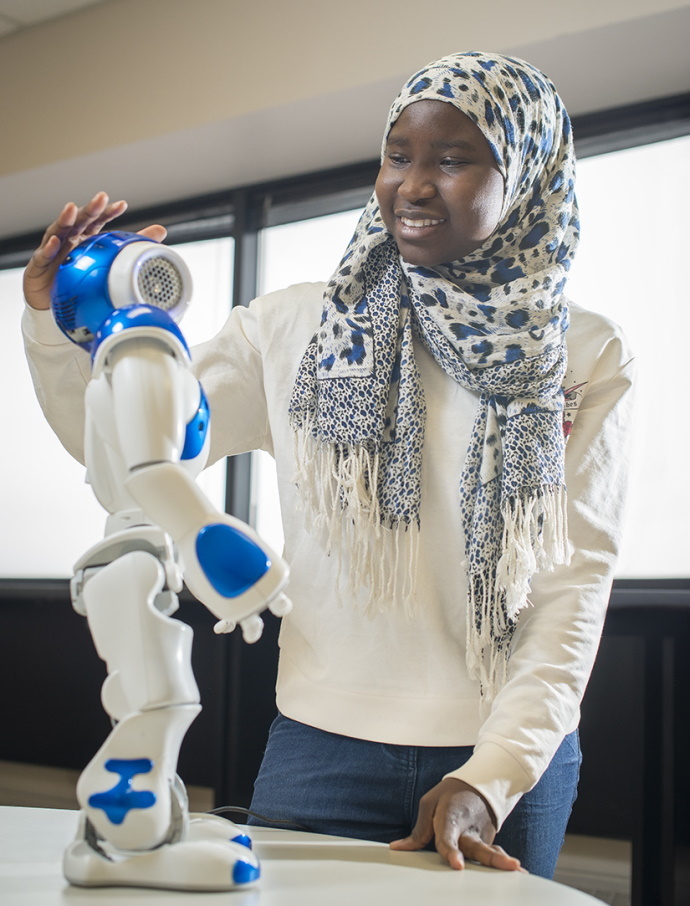 Honors Capstone Requirements
The Honors Capstone, completed under the direction of a faculty mentor, includes three key components:
1) an Honors Capstone project--a body of work which demonstrates a deep understanding of a research or creative topic
2) an oral presentation on your project that is delivered at an Honors-approved venue such as a conference or Undergraduate Research and Inquiry Across the Disciplines Day in April. If this venue is cancelled due to Covid-19, Honors students will upload a twelve minute oral narrated presentation on their project to the Honors Capstone WyoGroup and receive feedback from Honors-affiliated faculty.
3) uploading your project to the University of Wyoming Honors Repository (if your work contains proprietary information or is under peer-review, you can apply to be exempted from publishing in the Honors Repository). Please check out the Honors Capstone LibGuide (the guidance and submission portal) for more details.
Your Honors Capstone should demonstrate your ability to:
complete a significant independent or collaborative project

locate and evaluate information

think critically and communicate your ideas effectively

situate your work in the appropriate critical, creative, and ethical conversations

display a high level of knowledge, creativity and intellectual ability in a specific area (usually related to your major)
Completing an Honors Capstone in conjunction with other programs
Some undergraduate majors require a capstone experience that may also fulfill the Honors Capstone requirement. In addition, some undergraduate research programs will also fulfill the Honors Capstone requirements. If you have questions about whether you could fulfill your Honors Capstone in your major, please contact the Honors Capstone Coordinators, Dr. Joslyn Cassady and Dr. Thomas Grant, at honorscapstone@uwyo.edu. For more information on a few specific programs see the links below:
Resources
Communities of Research
The University of Wyoming Honors College has access to the Student Opportunity Center, the nation's largest database for internships, scholarships, events, publishing and volunteering opportunities, funding, and more! Create a new user account using your UW email to peruse and browse the many opportunities that might be of interest to you, spurring new ideas, research, and experiences for your capstone project. 
Completed Honors Capstone projects by Former Students
Former Honors students have submitted their final Honors Capstone projects to the Honors Repository. You may read their work by searching the archives of the Honors Repository.
Example Presentations
Here are four student's presentations of their Honors Capstones, including the work of Karolina Klatka (Majors in Dance and Environmental Systems Science), Jaynie Welsh (Majors in Microbiology and Physiology), James Fantin (majors in Computer science and Mathematics) and Tessa Wittman (Majors in Wildlife and Fisheries Biology and Management and ENR). Click on the video presentations below and/or find their projects in the Honors Repository.
Alumni Reflections on the Value of a Capstone Project
Watch the videos below to hear past students reflect about the value of their Honors Capstone experience. 
Frequently Asked Questions
Once a faculty mentor has agreed to work with you, you must complete the Honors Capstone Initiation- Student Portion. This declares your intention to complete an Honors Capstone, describes the project, and identifies your faculty mentor.  Watch for emails from the Honors Capstone Coordinators for deadline announcements. 
In close collaboration with your mentor, prepare a literature review and project proposal. This proposal should identify your question/problem, place it in the critical, scientific or creative conversation, state your methodology, outline the project, and provide a calendar for the completion of its various stages.
No, you may work with any UW faculty member or "community mentor" who has agreed to oversee your research/creative/innovative work and has expertise in your field of interest. The Honors College does not assign mentors for capstone projects, but the Capstone Co-Coordinators (honorscapstone@uwyo.edu) are available to provide support in finding a mentor for your Capstone project. Faculty and community mentors work directly with students on the specifics of their Capstone projects, while Honor's Capstone coordinators provide administrative support and assist students on timely completion of the requirements of the Capstone experience. If you are enrolled in a major (eg., engineering, education, nursing, music, statistics, international studies and others) that has a required capstone or senior design project, the instructor for the course may likely be your faculty mentor. 
Your faculty mentor also needs to complete a short form called the Honors Capstone Initiation Faculty Form. 
No, you don't need to sign up for a class to complete the Honors Capstone. 
We do offer an independent study if you need additional upper division elective hours to graduate, if you need additional hours to be a fulltime student in any given semester, or if you feel you need the structure to help you complete your project, but it is not required that you take those hours.  You can take up to 3 credit hours of an Honors independent study per semester for up to a total of 6 hours overall.  Remember that these hours will count as upper division electives but do not meet any specific requirements towards your degree or your Honors minor. 
If your catalog year is 2016, you are under the 2015 University Studies Program Requirements (which took effect Fall 2015 and apply to all students who were admitted in or after that term).  Therefore, students with this catalog year who wish to enroll in an independent study for the senior thesis should enroll in HP 4976.  
HP 4975: Sign up for 3 credits of this class and your project can be used to meet your WC requirement under the University Studies Program 2003.

HP 4976: Register for 1 to 3 credits of upper division credit.  Please note that this course does not meet the COM3 requirement under the University Studies Program 2015.
If you wish to register for HP 4975 or HP 4976, you must ask your faculty mentor overseeing your Honors Capstone to be the instructor of record for the independent study. Your faculty mentor will evaluate your progress and submit a final grade for the course.
If your faculty mentor agrees to be the instructor of record, please contact Jeanette Lamb at jlamb9@uwyo.edu and honorscapstone@uwyo.edu with the following information: Your name, email address, W#, faculty mentor's name, course number, and number of credits.
You will notice by perusing the Honors Capstones in the Repository that capstone projects range in length, and there is no definitive answer to "how long does an Honors capstone have to be?" The best way to identify an appropriate length for your capstone project is to discuss with your faculty mentor. Whatever the project's precise length, we expect that it will be substantial in terms of your commitment and your educational development.
Yes! Dean Parolin manages a scholarship fund to help offset research costs associated with the Honors Capstone.  Please consider completing an Honors College Grant Application. Read the application directions carefully. You will complete the top half, and your faculty mentor will complete the bottom and then submit to the Honors College. Priority will be given to students who don't have other sources of funding.  
If you have a capstone project idea that would involve human subject research, your faculty mentor will likely have to submit an IRB (Institutional Review Board) application on your behalf before any research begins. This application process is routinely completed by faculty and Honors students. Contact the Honors Capstone Coordinators, Dr. Joslyn Cassady and Dr. Thomas Grant, at honorscapstone@uwyo.edu and review the UW IRB Guidelines.
The Honors College supports collaboration and will accept proposals for collaborative projects under the following guidelines:
There is a strong rationale for a capstone to be collaborative

The students, the faculty mentor, and Capstone Coordinator meet prior to the start of the capstone work to discuss the structure of the project

It must be clear, in writing and from the outset, who is responsible for what part(s) of the project

Each student, after the completion of the capstone project, produces a reflection on the nature of the collaboration: how it worked and what was valuable

Each student gives an oral presentation on the project that highlights their individual contribution to the project

Work done by the group should be appropriately cited
Deciding to undertake the Honors Capstone process is a commitment to a significant amount of work, but there are important benefits to consider:     
An opportunity to explore, research, and create something that interests you

Gaining/honing a particular body of knowledge or skill set

Gaining experience in your public presentation and speaking abilities

Opportunity to reflection on and synthesize your undergraduate years of intellectual and personal growth

Development of professional relationships with a faculty mentor

Demonstration of academic motivation and intellectual specialization through a project to showcase to graduate programs or employers

Strong sense of accomplishment on having completed a significant research, creative or entrepreneurial project

Honors distinction that is recorded on your transcript as an Honors Minor
You may contact the Honors Capstone Coordinators, Dr. Joslyn Cassady and Dr. Thomas Grant, at honorscapstone@uwyo.edu.