Co-Location Hosting Services for UW Departments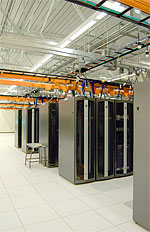 The University of Wyoming Division of Information Technology has begun operations in the 6,000 sq. ft. Data Center in the new Information Technology Center located at 1710 Sorority Drive (the east end of Sorority Row).
This modern, state-of-the-art Data Center has been planned and built with capacity to accommodate the long term information technology needs of the University. IT is pleased to offer University Departments the opportunity to apply for IT equipment co-location space in the Data Center to make use of currently unused capacity. This co-location arrangement is the sharing of Data Center space and infrastructure among multiple University users, maximizing the utilization of the State's significant investment in this facility, and in our institution. To apply, Departments must enter into an agreement with IT, as specified in the Data Center Occupancy Agreement.
Share This Page: