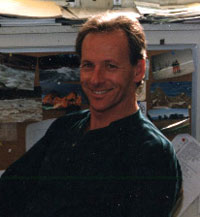 Dr. Don Roth
Professor
Department of Molecular Biology
University of Wyoming
Laramie, WY 82071
email: rothdon@uwyo.edu
---
Research Statement
Our primary focus is to dissect the functional significance of signal transduction pathways mediated by the dsRNA-activated protein kinase PKR and its plant homolog pPKR. Both kinases are present in healthy cells but virus and, in plants, also viroid infection stimulate kinase expression and activation. In mammals, PKR is a multifunctional enzyme involved in the regulation of protein synthesis via phosphorylation of eukaryotic initiation factor-2? (eIF2?) and control of NF?B, IRF1 and STAT1 mediated transcription. PKR regulation is critical in the regulation of cell proliferation, differentiation, apoptosis and viral pathogenesis. A host encoded methionine aminopeptidase II (p67) has been identified as an inhibitor of eIF2? kinases including PKR. We have shown in vitro and in vivo that p67 physically associates with PKR and pPKR inhibiting kinase autophosphorylation as well as exogenous substrate phosphorylation. In mammalian cell cultures, p67 inhibits PKR mediated antiviral and apoptotic responses. These effects are regulated via inhibition of translation and the NF-?B signaling pathway.  We are currently involved in determining the molecular mechanisms and physiological consequences of PKR-p67 interactions as well as identifying regulatory determinants that condition the dual p67 functions.
In plants, pPKR specifically phosphorylates eIF2? on serine 51 but the physiological significance remains to be clarified. Our lab is involved in the characterization of plant eIF2? phosphorylation pathways governed by pPKR and plant GCN2 kinases.  We are interested in the functional significance in development and in response to virus and viroid infection. A role in pathogenicity is supported by the interaction of pPKR with viral and viroid RNAs with intramolecular base pairing.
---
References
Gil, J., Esteban, M. and Roth, D. A. 2000.  In vivo regulation of protein synthesis by phosphorylation of the ? subunit of wheat
    eukaryotic initiation factor 2. Biochemistry  39, 7521-7530
Gil, J., Esteban, M. and Roth, D. A. 2000. In vivo Regulation of the dsRNA-dependent protein kinase PKR by the cellular
    glycoprotein p67. Biochemistry 39, 16016-16025.
Chang, L. Y., Yang, W. Y. and Roth, D. A. 2000.  In vivo translational control mediated by specific phosphorylation of the ?
    subunit of plant initiation factor 2. Biochem. Biophys. Res. Comm. 279, 468-474.
Chang, L. Y., Yang, W. Y., Browning, K. and Roth, D. A. 1999. Specific in vitro phosphorylation of plant eIF2a by eukaryotic
    eIF2? kinases. Plant Mol. Biol. 41, 363-370.
Browning, K., Goss, D., Gallie, D. and Roth, D. A. 1998. Translational machinery. IN: A Look Beyond Transcription:
    Mechanisms determining mRNA stability and translation in plants. Am. Soc. Plant Physiol and Mol. Biol.  19, 68-84.
Langland, J., Langland, L. and Roth, D. A. 1998. Differential localization and accumulation of the plant double-stranded
    RNA-dependent protein kinase during virus infection.  Pl Physiol. and Biochem. 36, 395-400.
Langland, J., Langland, L., Zeman, C., Saha, D. and Roth, D. A. 1997.  Developmental regulation of a plant analog of the
    mammalian inhibitor of eukaryotic initiation factor 2? phosphorylation. Plant J. 12, 393-400.
---