Division of Social Work
Student Success!
During the 2016-17 academic school year, students in the Division of Social Work were presented with many opportunities to expand their learning experience in and  beyond the classroom. Listed below are just a few of the exciting activities that help shape our students' social work education and prepare them for successful careers in the field of Social Work.
---
Benefiting From Small Class Size
Dr. Diane Kempson, standing, talks with social work students about motivational interviewing.
Small class sizes are of great benefit to learning for students in the Division of Social Work. This environment allows for students to closely interact with their instructors and each other.  An example of this success was demonstrated during an interprofessional introductory course on Motivational Interviewing taught this past year through the College of Health Sciences. As noted by Associate Professor Dr. Kempson, "I am very pleased that the MI course continues to attract students from across disciplines who are interested in helping their clients or patients find a way to move past the 'stuckness' of their old behaviors." This year's MI class includes students from the following programs: family and consumer science, pre-med, communication disorders, kinesiology and health, and social work.
---
Field Education Brings Real-Life Career Experiences
Typically there is an average of 78 students going into field practicum placements each fall; placements are for 2 semesters with required program hours to complete. Students complete placements throughout Wyoming and at times surrounding states. Students utilize the 'person in environment perspective' as they develop practice skills in micro, mezzo and macro levels.
Many Wyoming community locations offer and support a true rural, frontier generalist practice placement experience within hospitals, schools, mental health services, senior centers, income based services, protection services and advocacy services to name a few.  Rural locations offer unique opportunities for student placements such as UW Campus placements with student organizations, diversity groups, minority groups, survivor groups, interprofessional strategic groups and many others. At right, the Downtown Clinic in Laramie, WY, is one of the many locations throughout the state that provides placement for social work students to experience 'real-life' training toward their careers in social work.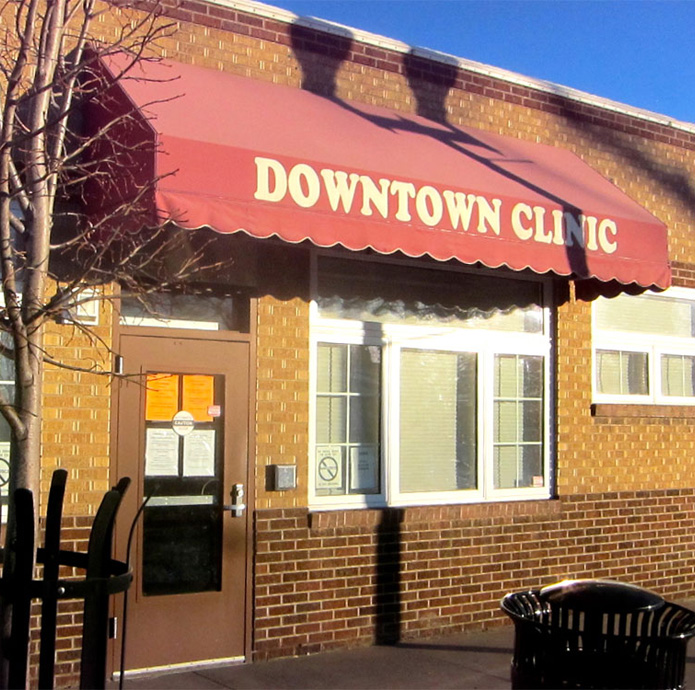 ---
BSW Students Learn about Professional Organizations in Social Work
Kim Harper (L), speaks with BSW students becoming members of the National Association of Social Workers, Wyoming Chapter.
Kimberly Harper, Executive Director of the National Association of Social Workers – Wyoming Chapter, joined BSW students in two different sessions, one in Casper and one in Laramie this spring, to talk about the important of membership in the professional organization.  NASW is the largest membership organization of professional social workers with over 132,000 members. As a professional organization, NASW seeks to enhance the professional development of social workers, develop professional standards, and advance the professional of social work.