Contact Us
Institutional Communications
Bureau of Mines Building, Room 137
Laramie
Laramie, WY 82071
Phone: (307) 766-2929
Email: cbaldwin@uwyo.edu
Kristin Lewis Named UW Staff Employee of Fourth Quarter
January 27, 2020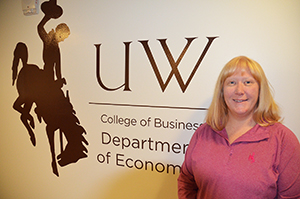 Kristin Lewis, UW Department of Economics senior office associate, is the Staff Employee of the Fourth Quarter. (UW Photo)
The University of Wyoming Department of Economics went through an office reorganization when Kristin Lewis was first hired.
In fact, the department needed that change to help things run more efficiently, according to some in the department. Lewis was first hired as a graduate coordinator and office associate, and later became the department's full-time senior office associate in July 2018.
"Kristin always had a smile on her face, and she has worked harder than anyone else in our department to help things run smoothly," says a colleague. "Without her, I am pretty sure our department would fall apart in a second."
That high praise has earned Lewis UW's Staff Employee of the Fourth Quarter Award. She is now eligible to compete for the Employee of the Year during Staff Senate's Staff Recognition Day Tuesday, March 24, from 10 a.m.-noon at the Marian H. Rochelle Gateway Center.
A reception to honor Lewis is scheduled Friday, Jan. 31, at 3:30 p.m. in Room 262C of the UW College of Business Building.
Lewis began her UW career in 2002, first hired as a painter and custodian for Residence Life and Dining Services. She also worked as a Campus Recreation intramural sports supervisor.
A College of Business colleague says two of the traits that make Lewis a standout co-worker are that she is transparent and efficient.
"You always know where you stand with her. She is clear what the expectations are, and she is very knowledgeable about relevant university procedures," the co-worker says. "Kristin is a true go-to person in our department because she gets things done. She is constantly working to make things better."
Another colleague writes how Lewis has adjusted to developments over the years, in not only the department but also campuswide, especially with budget cuts that forced job losses. Like many staff members on campus, Lewis had to endure additional duties.
"This has meant that Kristin had to quickly learn how to master new skills, programs and procedures. She has done so masterfully. She has a mindset of all problems having solutions, and everything will work out, with the right approach," the nominator says. "Kristin is creative, practical, highly intellectual and incredibly efficient in the way she works and takes on the challenges we all face. Whatever challenges she faces, she solves in the best possible way, whether they affect the department as a whole, or individual faculty or students. This is an incredible comfort and means a lot to the productivity of the whole department."
Lewis says the best part of her job is working with people who are passionate about helping students.
"The faculty, staff and administration in the College of Business are always looking for ways to enhance the student experience, and I love being a part of it," she says.
A former economics department chair says Lewis was a one-person staff and admired the work she produced day in and day out.
"Kristin was just excellent that entire time. She met and exceeded all expectations of the job. She was fast, accurate, thinking ahead, anticipating changes and so on. She made my job so much easier," the supervisor says. "Kristin always has a fantastic attitude and superb work ethic. She just makes UW a better place."
Lewis says she feels fortunate to work with "some of the kindest, caring and most interesting people" she has ever met.
"Working with people who are passionate about what they do, both educating students and advancing important research, is very rewarding," she adds. "Thanks to my department for recognizing me and always making me feel like part of the family."
An Employee of the Quarter nominee can be any UW staff employee, and each must receive three nomination forms from three separate individuals. Nominations must be submitted to the Staff Senate office. The forms are on the web and can be found here.
For more information, call the Staff Senate office at 766-5300.
Contact Us
Institutional Communications
Bureau of Mines Building, Room 137
Laramie
Laramie, WY 82071
Phone: (307) 766-2929
Email: cbaldwin@uwyo.edu