Contact Us
Institutional Communications
Bureau of Mines Building, Room 137
Laramie
Laramie, WY 82071
Phone: (307) 766-2929
Email: cbaldwin@uwyo.edu
New York Stock Exchange Floor Operations Director to Speak Feb. 7 at UW
January 30, 2020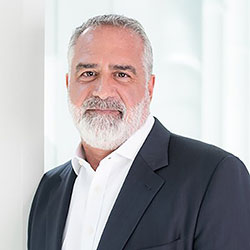 Kenny Polcari
Kenny Polcari, a veteran equities trader, will speak at the University of Wyoming Friday, Feb. 7, at 9 a.m. in the College of Business auditorium as part of the annual Sandberg Speaker Series. The event is free and open to the public.
Polcari, the New York Stock Exchange (NYSE) floor operations director for O'Neil Securities Inc., also is a CNBC exclusive contributor and market commentator appearing on "The Halftime Report," "Power Lunch" and "Closing Bell."
He will discuss "A Walk Down Wall Street: From the Birth of the Greatest Bull Market the World Has Known to the Great Financial Crisis to Today." His talk will focus on the history of the U.S. capital markets and evolution of the equity market, and the role of technology and policy from 1980 to present day.
Polcari represents the interests of institutional asset managers who need to access global equity markets using the latest technology. This allows him to give customers the personal attention and expertise of a boutique broker while remaining true to the nonconflicted agency model.
Known for his "boots-on-the-ground market analysis," Polcari writes a newsletter featured on Bloomberg and CNBC, which starts with insights on the day's action and ends with a "recipe to serve the mood of the markets."
Earlier in his career, he served as managing director at Icap Corps LLC and, before that, he was senior vice president and division manager with Salomon Brothers, directing the company's NYSE division during the bull market of the 1990s.
Polcari came to Wall Street as a summer intern on the NYSE during the early 1980s and graduated from Boston University's School of Management in 1983 with a finance degree. He later moved to New York City, where he began his career on the trading floor.
The Sandberg Speakers Fund, established in memory of Carl Sandberg, a UW graduate whose promising Wall Street career was cut short by cancer, sponsors the event. The series brings speakers of national stature in the financial world to UW to broaden the perspective available to students and the community.
Contact Us
Institutional Communications
Bureau of Mines Building, Room 137
Laramie
Laramie, WY 82071
Phone: (307) 766-2929
Email: cbaldwin@uwyo.edu