Contact Us
Institutional Communications
Bureau of Mines Building, Room 137
Laramie
Laramie, WY 82071
Phone: (307) 766-2929
Email: cbaldwin@uwyo.edu
UW American Heritage Center, Buffalo Bill Center of the West Create Peter K. Simpson Fellowship
January 28, 2020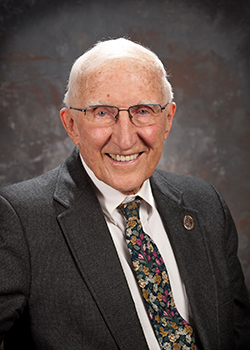 Pete Simpson
The Buffalo Bill Center of the West (BBCW), in collaboration with the University of Wyoming's American Heritage Center (AHC), has established an annual Peter K. Simpson Fellowship on the American West.
Fellowships will fund original research advancing knowledge, understanding and passion about the history and myths of the American West. Academic scholars at any level -- from graduate students to tenured faculty -- may apply.
The fellowship honors Wyoming native Pete Simpson, a UW professor emeritus, former state legislator and an active supporter of the arts and humanities.
AHC Director Paul Flesher and BBCW historian Jeremy Johnston are pleased the two institutions collaborated on the joint fellowship opportunity that recognizes a leading historian such as Simpson. They say the fellowship is designed to "encourage scholars to draw upon the AHC's and BBCW's extensive collections in Western history."
"Pete's ongoing community service reflects why he is the perfect role model for recipients of this award," Flesher and Johnston say. "Pete's intellectual insight through his writings and lectures will inspire these researchers as they seek a deeper understanding of how past cultures and historical events shaped and continue to influence the ongoing development of the modern American West."
An $8,000 stipend will be awarded each year to one fellow for a one-month -- 20 business days -- residence at the BBCW and the AHC during a 15-month period after notification. Research visits can be noncontiguous, but the recipient must stay at least one week at each institution. For in-residence research of less than 20 days, the stipend will be prorated.
According to criteria, the recipient will prepare a precis outlining sources consulted in each institution; how those sources shaped the research findings; and how the fellow will incorporate the information into the final product.
All application materials should be submitted electronically by Tuesday, March 31, to BBCW Human Resources Director Terry Harley at terryh@centerofthewest.org. Candidates will be selected in April and notified by email.
For more information about the fellowship, visit the fellowship webpage at www.uwyo.edu/ahc/grants/index.html.
For more information, call Harley at (307) 578-4089 or email terryh@centerofthewest.org.
About the Buffalo Bill Center of the West
Located in Cody, the BBCW is a complex of five museums and a research library featuring art and artifacts of the American West. Founded in 1917 to preserve the legacy and vision of Col. William F. "Buffalo Bill" Cody, the BBCW is the oldest and most comprehensive museum complex of the West. To learn more about the BBCW, visit www.centerofthewest.org.
About UW's American Heritage Center
The AHC is a public research institution and serves as UW's manuscripts repository, rare books library and university archives. With more than 90,000 cubic feet of material and 3,500 collections, the AHC is among the largest nongovernmental repositories in the nation. To learn more about the AHC, visit www.uwyo.edu/ahc/.
Contact Us
Institutional Communications
Bureau of Mines Building, Room 137
Laramie
Laramie, WY 82071
Phone: (307) 766-2929
Email: cbaldwin@uwyo.edu