Contact Us
Institutional Communications
Bureau of Mines Building, Room 137
Laramie
Laramie, WY 82071
Phone: (307) 766-2929
Email: cbaldwin@uwyo.edu
Comedian Demetri Martin to perform at UW March 9
February 28, 2020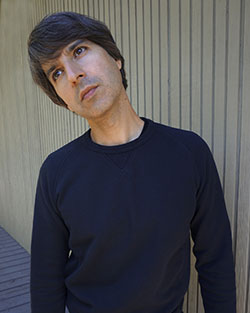 Demetri Martin
Comedian Demetri Martin will perform at the University of Wyoming College of Arts and Sciences auditorium Monday, March 9, as part of his Wandering Mind Tour. Doors open at 7 p.m., and the show begins at 8:30 p.m.
Tickets cost $10 for the public, $8 for UW faculty and staff, and $5 for students. Prime seating tickets in the first two rows are available for $20. Tickets can be purchased at the Buchanan Center for the Performing Arts box office and the Wyoming Union information desk, by calling (307) 766-6666 or by going online at www.uwyo.edu/finearts. The event is hosted by UW's 7220 Entertainment
Martin is a stand-up comedian, artist, writer and director. He began stand-up comedy in New York City, where he worked as a staff writer for "Late Night with Conan O'Brien." Martin then became a regular performer on "The Daily Show with Jon Stewart."
Martin has released three stand-up comedy albums and four hour-long stand-up comedy specials, including his latest for Netflix, "The Overthinker." He created and starred in his own television series for Comedy Central, titled "Important Things With Demetri Martin." His books, "This Is a Book" and "Point Your Face at This," are New York Times bestsellers. His latest book, titled "If It's Not Funny It's Art," features a collection of his original drawings.
Martin's fiction has appeared in the New Yorker, Esquire and the New York Times. He recently wrote and directed his first feature film, "Dean," which won the Founder's Prize at the Tribeca Film Festival for best narrative American feature film.
The Large-Scale Events Committee, which meets Wednesdays at 5 p.m., is responsible for organizing the event. All 7220 Entertainment committees meet in the Campus Activities Center (CAC), located in Room 012 of the Wyoming Union. For more information about 7220 Entertainment, visit www.uwyo.edu/7220entertainment; like 7220 Entertainment on Facebook; follow on Twitter and Instagram; or add wyounion on Snapchat.
Individuals needing assistance to attend events should call the CAC at (307) 766-6340.
Contact Us
Institutional Communications
Bureau of Mines Building, Room 137
Laramie
Laramie, WY 82071
Phone: (307) 766-2929
Email: cbaldwin@uwyo.edu