Contact Us
Institutional Communications
Bureau of Mines Building, Room 137
Laramie
Laramie, WY 82071
Phone: (307) 766-2929
Email: cbaldwin@uwyo.edu
Memorial Service for Duncan Harris Feb. 16 at UW
February 3, 2020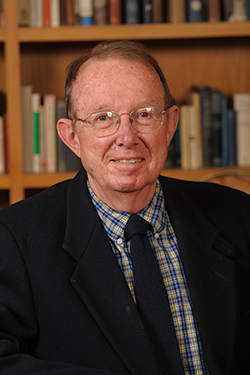 Duncan Harris
A public memorial service for Duncan Harris, longtime University of Wyoming faculty member, is planned Sunday, Feb. 16, at 10 a.m. in the main stage auditorium of UW's Buchanan Center for the Performing Arts.
Harris died May 16, 2019, in Jackson.
The memorial service will feature tributes from friends and colleagues, live music and readings. It will be followed by a reception in the Performing Arts Center lobby.
A member of the Department of English faculty starting in 1970, Harris directed UW's Honors Program from 1993-2013. He retired in 2014.
"He was a major part of the UW experience for generations of students and was a tireless mentor for faculty across our campus," says Peter Parolin, UW Honors College dean.
A Shakespearian scholar, Harris received numerous teaching awards, and he also directed UW's Summer High School Institute.
The Worland native received an A.B. in English with a minor in history (1965) at Stanford University; an M.A. in English (1966) at Boston University; and a Ph.D. (1971) at Brandeis University.
He is survived by his wife, Janice; sons Adam and Joshua; a sister; and four grandchildren.
Contact Us
Institutional Communications
Bureau of Mines Building, Room 137
Laramie
Laramie, WY 82071
Phone: (307) 766-2929
Email: cbaldwin@uwyo.edu